Professor Looks for Correlation between Depression in Teens and Vitamin D Deficiency
February 20, 2019
Shainy Varghese, associate professor in the University of Houston College of Nursing, heard similar stories from parents of teenagers at her clinic: When given a higher dose of vitamin D than that in traditional vitamins, the teens' moods improved.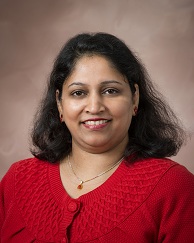 "Some parents came back and told me the added vitamin D was a 'magic pill,' and that it changed their kids' moods," Varghese said. "So that's when I thought that there was something to vitamin D."
Varghese, a nurse practitioner since 2003, operates a pediatric clinic in the Stafford area, southwest of Houston. She is launching a retrospective study that will examine up to 300 teens ages 13- to 17-years old who, during annual wellness exams in 2018, had a vitamin D check and ranked at-risk for depression. She is looking for connections between vitamin D deficiency and depression in teenagers.
"I already do required depression screenings," Varghese said. "I started to check if there was a connection."
During annual wellness exams, her teen patients fill out a depression screening questionnaire about their mental state for the previous seven days (The Center for Epidemiologic Studies Depression Scale, CESD). The 20 questions ask about the frequency of things like crying spells, feeling focused, poor appetite or sleep habits or feeling sad, mad or lonely.
A routine blood test she administers checks for, among other things, vitamin deficiencies. Varghese says many of her patients lack proper nutrition habits or do not spend enough time outside in sunlight, a source of vitamin D. While general multi-vitamins for youth contain a standard 600 international units (IU) of vitamin D, Varghese suggests supplements for 2,000 – 3,000 IU.
"If we can make changes in their behavior by rectifying whatever deficiency they have, that is the best thing to do instead of putting them on medication," she said.
Her study is funded by the Phi Chi chapter of Sigma Theta Tau, an international honor nursing organization whose mission is to advance world health and celebrate nursing excellence in scholarship, leadership and service. Varghese is working with Research Assistant Professor Julia Benoit from the UH College of Optometry, who will compile and assist in analyzing the data.
While there is an abundance of research on vitamin D deficiency and depression in adults, Vrghese notes there is very little literature about children and teens. She is hopeful the study can be replicated with a larger sample.
Nurse practitioners are licensed advanced practice nurses who specialize in various health care populations, such as pediatrics and family, gerontology, women's health and others. They examine, diagnose, counsel and treat patients in collaboration with physician partners. Nurse practitioners can manage their own clinics, work in hospitals, or in clinics with other healthcare providers. Nurse practitioners may be more accessible in providing health care for many, and because of this are on the front lines to many health issues such as mental health, nutrition, food insecurities, domestic violence, or chronic illnesses such as diabetes and heart disease.
The UH College of Nursing offers a master's degree in nursing with specialization as a family nurse practitioner. The master's degree in nursing prepares nurses to practice as family nurse practitioners, educators in nursing programs, to translate research into practice, and to assume leadership roles in advance nursing practice.