Nursing Leadership, Excellence Theme of Commencement
December 20, 2019
Friends and family members of University of Houston College of Nursing graduates crowded the Cullen Performance Hall for the traditional graduation and pinning ceremony.
Seventy-one students from the college's Second Degree BSN program and RN to BSN program participated in commencement.
"To our honored guests, whether in the clinical setting, through scholarships, administratively or one-on-one with a student, your support helped these new nurse leaders meet their goals," said Kathryn Tart, dean of the college. "These graduates will now be serving our communities in nursing leadership capacities."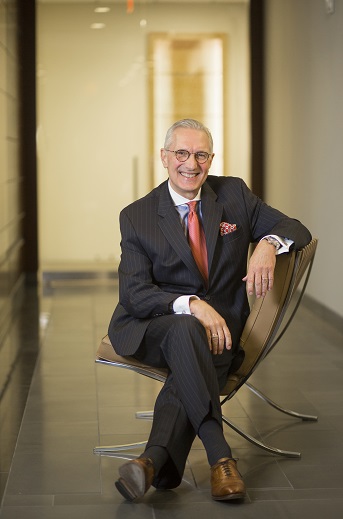 Charles D. Stokes, President & CEO of Memorial Hermann Health System, served as commencement speaker. Stokes began his career as a critical care nurse and nurse executive.
"We are a profession in transition, and will be for the next 5 to 10 years," he said. "Nursing will offer many opportunities to you—in hospitals, pharmaceutical companies, information and biotechnology, academics, research. Be open to these possibilities. I am proud of you and you should be proud of yourself."
He encouraged students to stand up for patient safety, commit to life-long learning, accept feedback, take care of their own physical and emotional health, and embrace inclusion and diversity.
"We are a diverse and beautiful society. This should be celebrated and considered a strength," Stokes said.
Following his remarks, Tart announced the Charles D. Stokes Nursing Scholarship, which will be distributed next fall.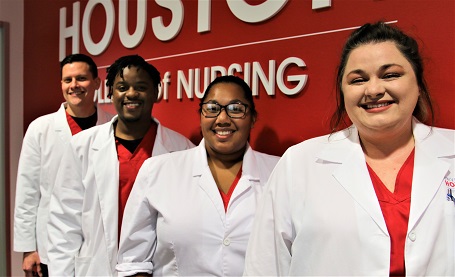 The graduating class included four students from HCA Houston Healthcare. HCA became a new partner with the college this academic year. The HCA cohort of students completed bachelor's degrees in the college's RN to BSN program.
During the ceremony four students were acknowledged for excellence.
These Second Degree BSN students earned a 4.0 grade point average:
Stephanie Roebelen Bradley
Christopher D. Casebolt
Madisen Lindley Gale
Taylor Anne Jackson
Christopher Casebolt also was acknowledged as Undergraduate Student for Academic Excellence.
Charles E. Watts III was recognized as Outstanding Undergraduate Student for Clinical Excellence.
Noelle Whitney Grandberry was recognized for being the Student Representative for Second Degree BSN students.
Tart said the graduates were supported by more than $223,000 in scholarships from 15 individuals and foundations. She added that the class of 2019 joins more than 1,200 alumni from the UH College of Nursing.