Innovation, Collaboration in New Active Learning Classroom
August 28, 2019
The Information Technology department at UH at Sugar Land debuted the new Active Learning Classroom this fall, a technology-rich learning space designed for student engagement.
Innovation is evident in the high definition monitors, interactive displays and portable power pods, but so is collaboration. The Active Learning Classroom holds portable tables and chairs that can be moved to create small groups or conference table, depending on the lesson. Each table top is a whiteboard surface for students to create images or notes with dry erase markers, a feature also of the room's walls.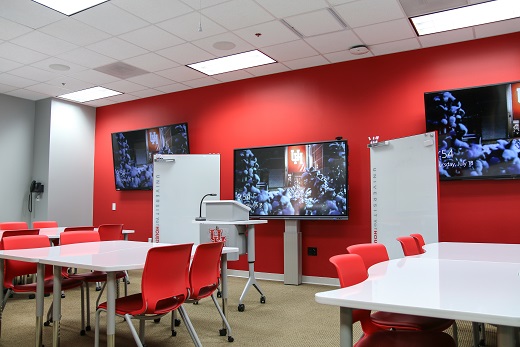 "One of the results from the 2018 Faculty IT Services Survey was a request to have more learning spaces that emphasized student collaboration," said John McKee, technical services manager. "They wanted rooms where the furniture could be moved about, lots of writing space that encouraged student innovation, and technology that allowed them to share easily among themselves and the class."
The request was supported by McKee's Technology Advisory Groups for faculty and students.
The room supports up to 30 students. Currently there are seven classes, graduate and undergraduate, scheduled in the ALC, including digital media, education, human resource and development and social work.
"Technology is at the center of advancement and innovation," said Jay Neal, associate vice president academic affairs and chief operating officer for UH at Sugar Land. "Providing faculty and students with relevant learning tools creates an environment of enthusiasm for their discipline that is essential if we are to create enthusiastic and creative professionals to impact their chosen fields."