Supply Chain and Logistics Technology Senior Receives Accolades for Blockchain Presentation
April 25, 2019
A University of Houston Supply Chain and Logistics Technology student receives high marks for a student competition on original research. Sponsored by the Houston chapter of the Council of Supply Chain Management Professionals, the annual competition brings students in front of industry professionals.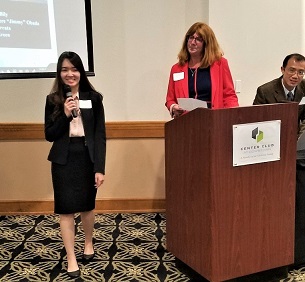 Tran Vo, a senior in the University of Houston College of Technology Supply Chain and Logistics Technology program presented "Supply Chain Transparency through Blockchain."
Blockchain is digital information that is stored in a public database, as defined by many e-commerce professionals. Originally, it was a process associated with crypto-currency but now has found practical uses in supply chain processes.
She discussed the current challenges facing the industry and explained how blockchain provides solutions. She then presented a highly illustrative example of how Wal-Mart implements blockchain for tracking sliced mangos, which reduces their incident response time from seven days to 2.2 seconds. She concluded with a discussion of other areas of the supply chain that might benefit from blockchain and some of the drawbacks presented by the technology. Vo was named second runner-up in the competition and received commendation from the panel of judges for her exceptional presentation.
Vo said the experience had an unexpected benefit to her.
"I've always had the fear of public speaking and normally I would just try to avoid it as much as possible. Sometimes all you need to do is to put yourself out of your comfort zone and deal with it," she said. "I am grateful for this experience to help me grow and become a better version of myself and realize that public speaking is not always scary."
Read more