Summer Camp at UH at Sugar Land is All About Technology
April 25, 2019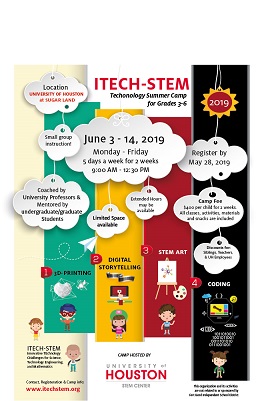 Coding. Game Design. 3D Printing and Digital Storytelling. A summer camp harnesses all that's cool about technology and offers it up in a two-week summer camp. The University of Houston at Sugar Land hosts the Second Annual ITECH STEM Camp June 3-14 where students will create digital stories, learn how to code, study animation and gaming and build 3D models. Students also will do experiments about robotics and virtual reality.
"The goal of the camp is to promote and teach STEM topics that are popular and emerging," said Bulent Dogan, clinical assistant professor in the UH College of Education and director of the Learning, Design and Technology graduate program, housed at UH at Sugar Land. "We believe students not only can learn these things, but be excited by them. We need them to learn all they can about technology in order to have a competitive workforce in the future."
The STEM camp is designed for students in grades entering 3-6 in this Fall and culminates in an awards ceremony on the last day of the camp to recognize the achievements and showcase students' work.
UH professors will coach the students with assistance from UH undergraduate and graduate students.
The classes run Monday through Friday from 9 a.m. to 12:30 p.m. The cost of the camp is $400 and includes all the materials they'll be using. Discounts are available for teachers, UH employees and for registering siblings.
The camp is supported by the UH STEM Center. Registration deadline is May 28. For more information or to register, visit www.itechstem.org.