Annual Scholarship Banquet Brings Scholars, Benefactors Together in Celebration
Sept. 21, 2018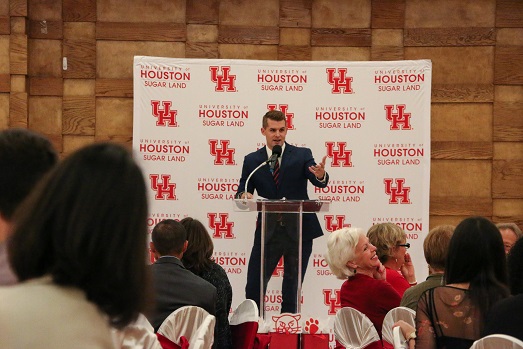 More than 160 students and their benefactors joined the University of Houston at Sugar Land for the 17th Annual Scholarship Banquet. The event, held at the Safari Texas Ranch in Richmond, celebrated the academic accomplishments of 145 students who are studying nursing, technology, social work, education and other areas. This year, students received scholarships from 17 donors and foundations.
The event was underwritten by the Fred and Mabel R. Parks Foundation. Stephen Morgan, reporter for Fox 26-TV, served as emcee.
"We are so proud of our students and we are thankful to our sponsors and donors," said Jay Neal, associate vice president, academic affairs and chief operating officer of UH Sugar Land. "Your support in higher education provides the fuel that drives us forward."
Sugar Land residents Drs. Kulvinder and Nomita Bajwa spoke about the need to support students in the local area.
"Nurses are the first to take a step forward to help," Kulvinder Bajwa said. He and his wife have created an endowed scholarship for the UH College of Nursing. Their passion for nursing encouraged one of their colleagues to do the same.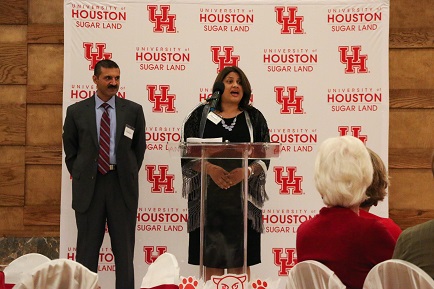 Dr. Kulvinder Bajwa is a bariatric surgeon with Memorial Hermann Sugar Land. He is a Colonel in the U.S. Army Reserve serving as the 5th Brigade Commander under the 94th Division in Ft. Lee, Virginia. He served two tours of duty in Iraq, one in Afghanistan and one in Honduras.
Dr. Nomita Bajwa is a doctor of pharmacy with a special interest in health promotion and literacy in school age children. She has raised thousands of dollars in health grants for the Fort Bend County area, all with the goal of bringing cutting-edge, evidence-based health information and education to the community. She's currently the CEO of Wellness Geeks Consultants.
Among the attendees were Dean Bob McPherson of the UH College of Education, Dean Anthony Ambler of the UH College of Technology and Dean Kathryn Tart of the UH College of Nursing.
The scholarship donors included:
The UH Fort Bend Alumni Association
Marjorie Akers Hilty Gurasich Scholarship
The Michel Miller Memorial Scholarship
The Paula M. Short Nursing Scholarship
The Mayor Joe Zimmerman Scholarship
The Hamill Foundation Scholarship
The Rubin Sztajer Holocaust Survivor Scholarship
The Good Samaritan Foundation
The Gulf Coast Medical Foundation
The Hazel H. Montgomery Family Trust Nursing Scholarship
The John S. Dunn Foundation
The Vivian L. Smith Foundation
The Fred and Mabel Parks Foundation Scholarships
The George Foundation Nursing Scholarships
The George Foundation Scholarships