Cougar Corner Brews Your Starbucks Favorites in Brazos Hall
Sept. 21, 2018
"I feel like we are legit now," said one student in line to order an iced coffee. The University of Houston at Sugar Land is home to a new coffee shop. Cougar Corner proudly serves Starbucks coffee, which means all the Frappuccinos, extra-whip, low-fat, pumpkin-spiced orders are ready to be served. The new addition is in Brazos Hall near the bookstore.
"This coffee shop has sparked a lot of excitement on our campus," said Jay Neal, associate vice president, academic affairs and chief operating officer at UH Sugar Land. "We're happy to have Cougar Corner for our campus community."
As enrollment continues to grow (nearly 2,500 UH students attend classes in Sugar Land), students are asking for a more collegiate feel to the campus. Having a place to gather, like a coffee shop, helps to meet that need.
Faculty, staff and students provided suggestions for the name. Some that were offered included: The Daily Roast, Cougar Beans, Shasta's Cup and The Hog Pen. The latter is reference to the many wild hogs in the Fort Bend County area known to dig and destroy landscapes in search of food.
Cougar Corner is opened Monday –Thursday, 7 a.m. – 8 p.m. and Friday 7 a.m. to 2 p.m.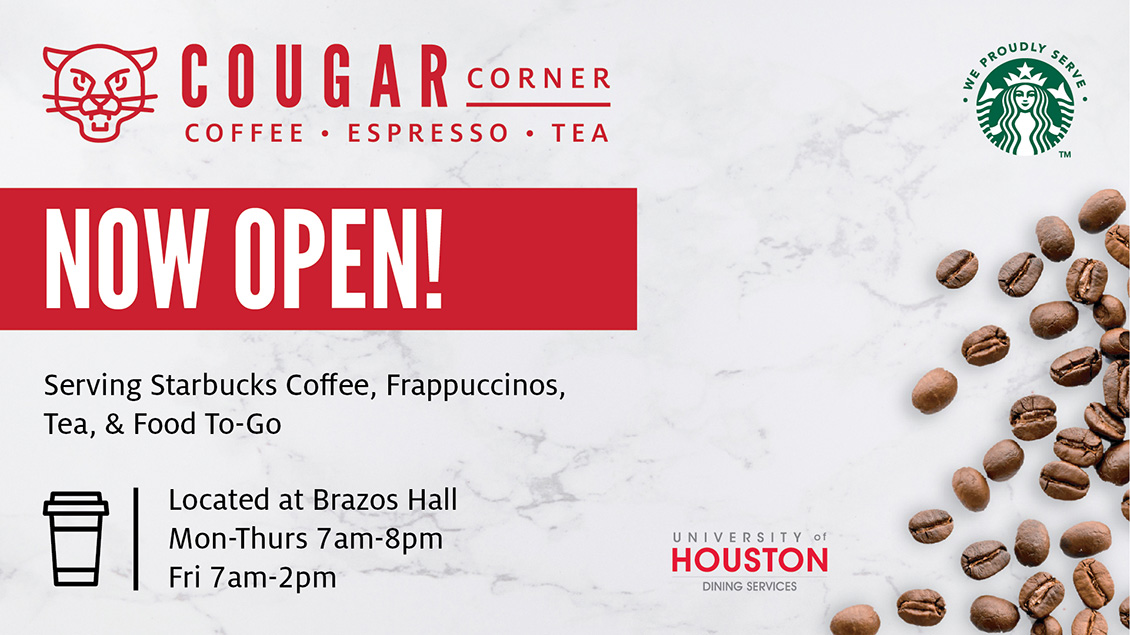 Read more