First for UH Nursing—Alum Becomes Faculty
Oct. 8, 2018
"When I graduated from UH, I remember telling my husband, one day I will be back as a full time faculty member. That was my goal and it came true."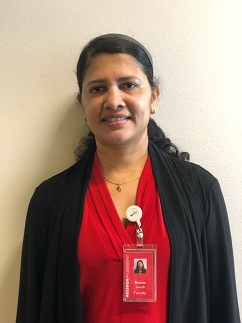 Beena Joseph, professor of practice and learning coordinator, represents a first for the University of Houston College of Nursing. She is the first UH nursing alum to become a UH nursing faculty member. Joseph, who earned a master's degree in nursing education in 2011 from the then-UH School of Nursing, is now overseeing the simulation lab as well as the clinical placements for the college's Sugar Land and Katy locations (UH Katy will open in fall of 2019).
Joseph comes to UH following 18 years at Memorial Hermann Health System, most recently in the corporate system clinical education.
"I was at bedside for many years and then was in the hospital clinical teaching," she said. "In nursing, you have a lot of opportunities, which is another beauty of nursing."
Joseph, who also earned a doctorate in nursing practice from Chamberlain College of Nursing in 2016, says her interest in nursing began when she was in elementary school in India. A hospital stay for her mother introduced Joseph to the profession.
"When she was sick, it was me helping her. I wanted to pursue something in the medical profession. It was always about helping others and I liked that human interaction," she said.
The simulation lab, which she will oversee, is a familiar place. As a nursing student in the teaching practicum, Joseph spent much of her time in the sim lab. She later was a student worker there ahead of her 2011 graduation.  She says the experiences in the sim lab are critical to students, particularly as they complete clinical rotations in area hospitals and health care facilities.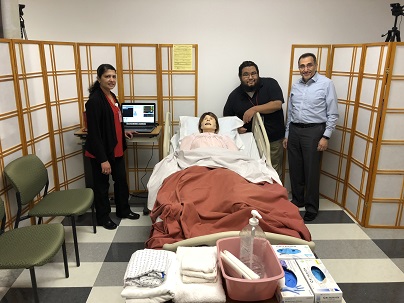 "Working with new graduates in the hospital, I saw how critical thinking was something they struggled with in the beginning," she said. "Simulation lab experiences will allow the students to develop their critical thinking skills in a safe learning environment. In our lab, students can make mistakes, be evaluated by faculty and learn from those mistakes."
Even in clinical rotations, students will only see a limited scope of medical cases and emergencies. The state-of-the-art simulation lab at the College of Nursing includes life-like mannequins that "talk" to nurses about their pain, their questions and needs. One mannequin, nicknamed "Victoria," simulates the birthing process, teaching students what to expect when things go right and when emergencies arise.
"The simulation is such good practice for them. Things can change from one moment to the next. Using technology helps us to expose students to those rare situations," said Joseph.
In her new role overseeing the simulation lab, Joseph will work with faculty to ensure the experiences support what students need. In her capacity, she'll also make students aware of the resources available to them and reinforce the availability of faculty to help them.
"Right now I'm trying to develop a routine, seeing where I can make a difference," she said. "I have a background in health care leadership, so I am looking forward to teaching classes, perhaps next fall."
Joseph added, "Being an alum of UH College of Nursing, it is a great honor to be part of the faculty team. I look forward to working with the amazing nursing Faculty at UH CON to support the future of nursing."
In the meantime, as she settles in to her new office and new role with the college, there is one item that's on her to-do list.
"I don't yet have a lot of red in my closet," Joseph laughed. "I'll be shopping for red to wear on Cougar Red Friday!"