New Nursing Graduates Join Industry as Health Professionals, Leaders
May 14, 2018
"You did it."
With those words, Kathryn Tart, professor and founding dean of the University of Houston College of Nursing, opened spring commencement ceremonies. Faculty, students and their families were on hand for the graduation and pinning ceremony at UH Sugar Land.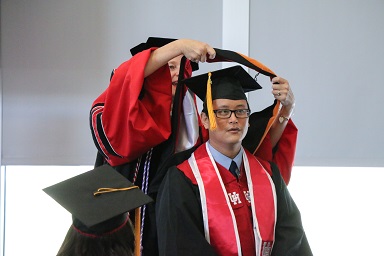 "I want to congratulate you on this accomplishment," Tart said. "I know that you will display your nursing pin with pride and will become part of the nursing industry excellence."
The UH College of Nursing is housed at UH Sugar Land.
Many students were completing the RN-to-BSN program, a year-long program for students who already have an associate's degree in nursing and are now earning the Bachelors of Science in Nursing (BSN) degree. Other students were celebrating the completion of their Master of Science in Nursing (MSN) degree with a focus as a Family Nurse Practitioner.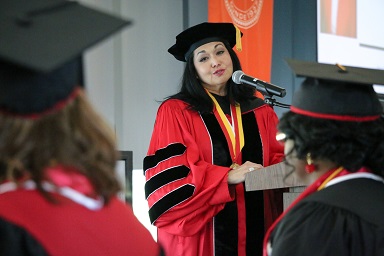 "The College of Nursing prepared you like no other—to be nurses and to be leaders," said Paula M. Mendoza, Secretary, UH System Board of Regents. "You are the bond between patients and providers. You better the lives of all you touch. You make a difference."
Two students were acknowledged for their academic efforts. Mark Anthony Yap from the college's graduate program was awarded the Outstanding Leadership from a Class Representative distinction from the nursing faculty. Hilary Butella was recognized for Academic Excellence by nursing faculty. Butella maintained a 4.0 grade point average.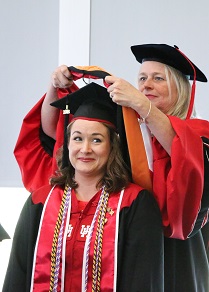 Joe R. Zimmerman, mayor of the City of Sugar Land, served as commencement speaker. Zimmerman, a UH alum, spoke to graduates about leadership.
"In leadership, relationships matter. Integrity, trust, communication, respect and sacrifice all matter," he said. "Understand the plan you have for your life may change—be ready to adjust. Remember to guard your reputation, laugh, especially at yourself, find a mentor, be nice to each other and have faith."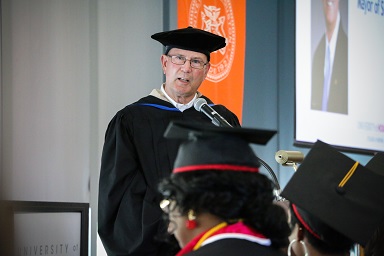 Dean Tart announced a scholarship in Mayor Zimmerman's name to be awarded to a student in the coming academic year.
A pinning ceremony is a rite of passage for nursing students that acknowledges the hard work that ends their academic journey and begins their new role as professionals.
The pin students received is unique to UH. At the center of the circular pin is the interlocking "UH" that represents the student's journey and partnership with the University of Houston and relationships along the way. A red border inscribed with "University of Houston Nursing" represents passion, advocacy, love, caring and leadership—the values of UH Nursing. Finally, a gold banner at the bottom indicates the degree the student has earned and the culmination of their studies.