First Graduates of Hybrid MSW Cross the Stage
May 14, 2018
The first co-hort of students from the University of Houston Graduate College of Social Work's hybrid program at UH Sugar Land crossed the stage during commencement ceremonies in May.
Seventeen students were awarded a Master in Social Work (MSW) for work completed in the program that met twice a week in traditional face-to-face classes with the remainder of the course delivered online.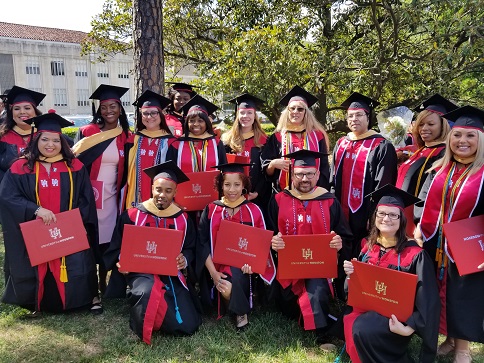 The program first was offered at UH Sugar Land in 2015 when the college noticed a steady increase in applications from Fort Bend County.
"Our admissions office determined that the second largest group of MSW applicants came from Fort Bend County (Harris County was first)," said Ginger Lucas, clinical assistant professor and director of the Online MSW program. "That's when we started looking for ways to offer classes to those students who lived in Fort Bend County and wanted the convenience of taking classes there."
One student, Shay Ugoh, was honored with the Barbara Jordan Integrity Award. The award is named for the first African-American woman elected to the Texas senate and the first U.S. Representative for Houston's 18th congressional district. The award is presented to a part-time or advanced standing student who has demonstrated discipline, determination and a high standard of excellence.
Twenty-nine students are scheduled to graduate from the college's UH Sugar Land MSW hybrid program in spring 2019.