College of Nursing Donation Drive Collects Sporting, Art Equipment for SHAPE Community Center Effort Inspired by UH Third Ward Initiative
The University of Houston College of Nursing, along with members of its nursing honor society, the Phi Chi Chapter of Sigma Theta Tau International, were inspired by the University of Houston's Third Ward Initiative to embark on a donation drive for the S.H.A.P.E. Community Center.
The goal of the UH Third Ward Initiative is to partner and collaborate with the Third Ward to transform schools, businesses and health care resources.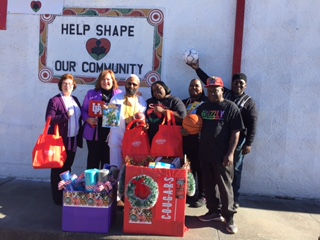 "As members of Sigma Theta Tau International, Phi Chi Chapter, we place high value on our mission of philanthropy, and incorporate it in all that we do," said Lee Anne Lightfoot, assistant clinical professor at the college. "To honor this mission we collected needed items for this important Houston center."
It was an effort not even a hurricane could delay.
In the spring, the college's faculty toured the Third Ward and the S.H.A.P.E. Community Center where they met Deloyd Parker, co-founder and executive director. He showed them the Center's After School Enrichment Program, which provides a number of activities for children and teenagers. From life skills and homework help, to physical activities and art, programs at S.H.A.P.E. have a broader goal of enriching communities and families, Parker explained.
"That made an impact on me, and we wanted our efforts to have an impact on these young people and their families," she said.
Lightfoot and other college faculty and students began a donation drive to provide needed athletic equipment, art supplies and chess sets for S.H.A.P.E.'s children and teenagers. The efforts began in earnest at the beginning of the fall semester.
Then the hurricane struck.
"We took on this project at the end of the spring semester with the intention of finishing it up by the beginning of the fall. And then Harvey hit and things came to a crashing halt," she said. "I decided I was not going to lose focus on this project because it was very meaningful to me."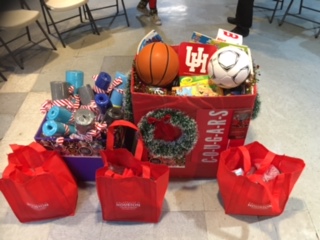 The group persisted with efforts and were rewarded with a generous collection of donated jump ropes, exercise mats and all manner of sports balls. They also collected paints and paint brushes, colors, art paper and canvases.
"We collected from the Phi Chi members, the board, our students, faculty and staff, and we got something from every item on their list," she said.
Included in the box of donation items were a series of children's books featuring the character Nola the Nurse, an African American nurse who celebrates the diverse cultures of her patients. The books were written by Dr. Scharmaine L. Baker, a nurse practitioner.
Those donated books came from Lightfoot.
"At the end of my career what is my legacy? Not only recruiting to our college, but planting a seed, as with these children at S.H.A.P.E. Community Center," she said. "Wouldn't it be wonderful if one day they applied to become a nurse at the UH College of Nursing."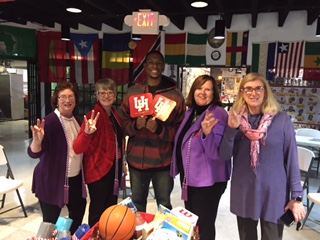 The College's nursing honor society chapter, Phi Chi, was chartered by Sigma Theta Tau International in February 2013—the 500th chapter. An international nursing organization, the local chapter is led by the College's Dr. Sandy Lee, who is the president and a founding officer.
The College of Nursing's philanthropic efforts through its Sigma Theta Tau nursing honor society have included the March of Dimes. In 2017 their efforts to lead the largest group during the March of Dimes March for Babies, for which they were recognized.
Read more