We are celebrating the start of the new semester with fun events and helpful information. Have a great semester!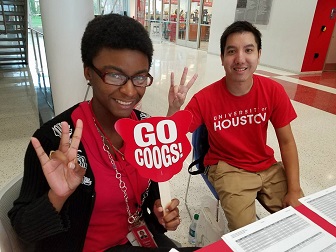 Cougar First Impressions, Monday & Tuesday: Ice cream, popcorn and UH Sugar Land goodies welcome you back to campus and the fall semester. Watch for friendly staff in the George Building and Brazos Hall. And don't forget to sign our Welcome Back banner in the George Building Rotunda.
Need a Cougar Card, parking permit or a shuttle decal? You can get it all at UH Sugar Land. Visit Campus Support Services in room 101 of the George Building. Get more information and office hours on the campus services page.
Ride the Shuttle: Students taking classes at the University of Houston at Sugar Land and the main campus may use the Shuttle Service. You'll need to display a decal on your Cougar Card. Get it at the UH Campus Support Services office. Check out the Fall 2018 Shuttle Service schedule here and download the app to track the shuttle. Visit Google Play or the Apple Ap store and search 'DoubleMap.'
UH Sugar Land Welcome Back Tuesday, August 21 9 a.m. to 11 a.m.: Join us in the George Building Rotunda for breakfast snacks and giveaways to welcome you back to campus!
QPR Suicide Prevention, Thursday, August 30 3:30 p.m. to 4:30 p.m.: Join UH Counseling and Psychological Services in the George Building, room 104 to learn how to recognize and respond to the signs of suicidal thinking and behaviors, and how to persuade an individual to contact the appropriate assistance. Limited seating and registration is required. Email tabdulra@central.uh.edu. This is open to all UH students, faculty and staff.
Check out all the UH Weeks of Welcome events!