National Award for Coordinator of Digital Media Program
August 22, 2018
Professor Jerry Waite, program coordinator of the University of Houston Digital Media program, received national recognition for his contributions to the education and training of the next generation of graphic arts professionals.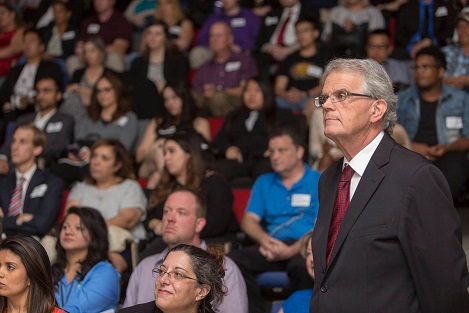 The Printing Industries of America (PIA) bestowed its Education Award of Excellence to Waite for his "leadership that has directly resulted in a distinguished program and service to graphic communications education," the organization said in a news release.
The award was given during the PIA's annual conference in Millersville, Pennsylvania.
Waite was nominated by industry professionals who described him as "a recognized leader in attracting, educating and training new, young talent to fill future leadership roles in the print communications industry."
The Digital Media program is part of the UH College of Technology and is offered at UH Sugar Land. The program includes print media, packaging, motion media, e-commerce, e-media and gaming and simulation. An inaugural program of UH Sugar Land, Digital Media expanded to Fort Bend County in fall 2012 and features state-of-the-art labs and studios.