Hot off the presses:
Now you can print wirelessly from your laptop or personal computer to any available Print Release Station, found in the George Building and outside of the College of Nursing office suite. Find out more, including step-by-step instructions on the printing services page.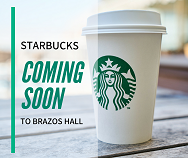 Pardon our dust:
Things are brewing at Brazos Hall. Crews are busy installing a Starbucks coffee shop on the first floor adjacent to the multipurpose room, near the bookstore. Whether you start the day with a cup or fold in an afternoon coffee break, having Starbucks nearby certainly will make your classes, teaching or work day much smoother. The UH Sugar Land Starbucks is scheduled to open this fall.