New STEM Summer Camp Hosted by UH Sugar Land Three-week Camp Features Activities for Students Grades 3-6
April 26, 2018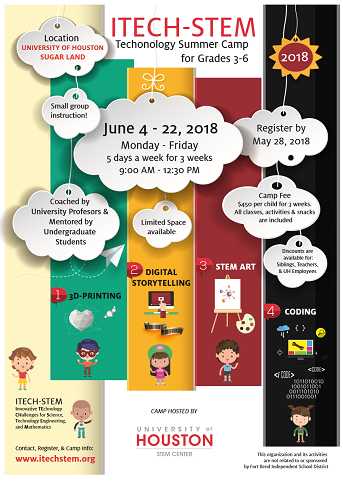 The University of Houston at Sugar Land will host more than 50 elementary students entering 3-6 grades for a summer technology camp called, ITECH-STEM. The three-week camp will feature classes in 3-D printing, digital storytelling, STEM art and coding. All are coached by university professors and mentored by UH students.
"I believe the younger students can learn about things like coding and 3-D printing, and be excited by it. We just need to believe in them," said Bulent Dogan, clinical assistant professor in the UH College of Education and director of the Learning, Design and Technology master's program at UH Sugar Land. "We should be teaching kids about technology before they get to middle school, if we want to have a competitive future workforce."
The camp runs from June 4 – 22, Monday through Friday, 9 a.m. - 12:30 p.m. Students will use the UH Sugar Land computer labs and art room. The camp culminates in an awards ceremony where students will be showcasing their work and be recognized for their success.
"Many components set this camp apart from others, such as the special focus on elementary students, small group instruction mentored by university students, project based learning, hands-on approach, integrated STEM topics in all domains and individual attention to each child," he said.
Cost for the camp is $450 per child including all activities and camp materials. There are discounts for teachers, UH employees and for registering siblings.
The camp is supported by the UH STEM Center.
For more information or to register, visit www.itechstem.org.
Download Camp Flyer