New Houston Electric League Scholars Announced
April 12, 2018
Eight students from the UH Supply Chain/Logistics Technology program have been named Houston Electric League (HEL) Scholars for 2018. As such they will intern with an HEL company for the summer.
"For the second year, UH Sugar Land hosted interviews with the industry," said Margaret Kidd, instructional assistant professor with the program. "We had 17 students apply and 8 winners. That should tell the story of our students."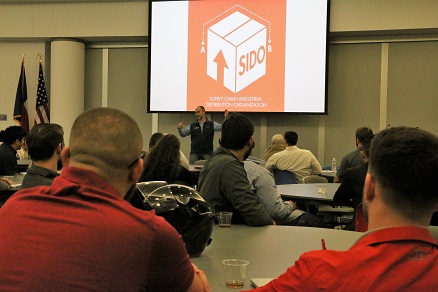 Representatives from HEL spoke to students of the Supply Chain Industrial Distribution Organization (SIDO) when the group hosted its first meeting at UH Sugar Land. SIDO has officially moved to UH Sugar Land, where more than 750 students are pursuing studies in supply chain logistics technology.
"Organizations such as SIDO will prove to be an important connection from their academic lives to their careers. I'm glad they see that," Kidd said.
The supply chain logistics technology program is part of the UH College of Technology and housed at UH Sugar Land.
These are the students who secured internships and scholarships:
Internship & Scholarship:
Elaine Focke – Elliot Electric Supply
Hannah Lohse – Eaton
Benjamin Barreto – Emerson
Farris Momim – Wholesale Electrical Supply
Puya Schahhosseini – Power Ohm
Scholarship:
Willi Gerami – Clyde Rutland Memorial Scholarship
Chloe Burns – Danney McCoy Scholarship
Nicholas Hill – John Milner Memorial Scholarship
Read more