College of Nursing, Indian Nursing Council to Partner in Programs, Research, Exchange
April 23, 2018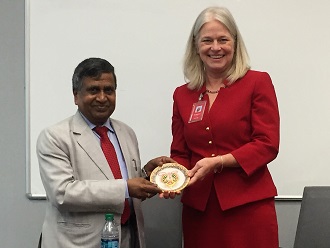 The University of Houston College of Nursing will partner with the Indian Nursing Council on research and programs. The new collaboration became official with the signing of a memo of understanding between the college's Kathryn Tart, professor and founding dean, and Dileep Kumar, president of the Indian Nursing Council, under the Ministry of Health and Family Welfare.
"We are working to help India with two programs—the graduate Nurse Practitioner and the Doctorate of Nursing Practice," said Tart. "This means our two institutions also will work together for research, as well as an exchange of faculty and students."
The signing took place April 17, 2018 at the Consulate General of India in Houston. The partnership was made possible, in part, through support of Dr. Durga Agrawal, a member of the University of Houston System Board of Regents.
"Regent Agrawal is a strong supporter of nursing and was instrumental in beginning the doctorate of nursing practice program in Texas when he served on the Texas Higher Education Coordinating Board," Tart said. "He's worked tirelessly to make sure people have access to health care through highly educated, expert clinical nurses through these graduate programs."