Houston Woman Magazine Honors College of Technology Professor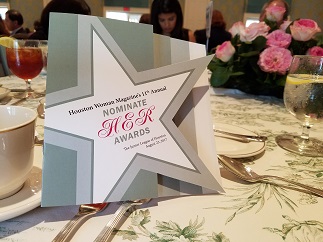 Margaret Kidd, instructional assistant professor in the University of Houston College of Technology, was honored along with six other Houston professional women at the Houston Woman Magazine annual Nominate HER Awards. The annual award ceremony recognizes Houston women who inspire those around them and serve as role models for others in the community. Readers of Houston Woman Magazine submit candidates for the awards.
Kidd received the Savvy Sister Award, bestowed on a woman who has made a significant career change, interesting business maneuver or an innovative change to her workplace.
The ceremony took place at the Junior League of Houston.
Kidd, who teaches undergraduate supply chain courses at the University of Houston at Sugar Land and coordinates student applicants for internships and scholarships, comes to academia by way of Wall Street and sales management.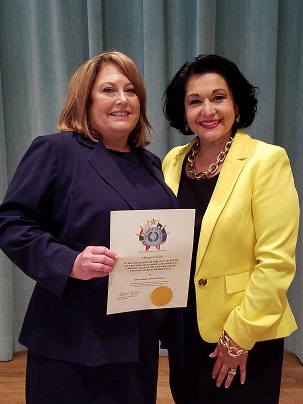 She serves as faculty advisor to the student organization Supply-Chain Industrial Distribution Organization and serves as a liaison for Houston Electric League and Exporters Competitive Maritime Council Education Committee Houston.
Other award recipients were:
Delores Guerrero, Community Liaison, State Sen. Sylvia Garcia/Broad Shoulders Award
Thelma Scott, Founder & CEO, Barbara Jordan Endeavors/Community Angel Award
Dani Grant, Human Resource Manager, Noltex/Evolving Eve Award
Jennifer Hohman/Director of information Technology, Conoco Phillips/Gutsy Gal Award
Liz Baily, Operations Manager III, Houston Methodist/Maximum Mom Award
Morag Watson, Vice President Digital Innovation, BP/Wise Woman Award
(RIGHT: Professor Margaret Kidd with UH System Regent Paula M. Mendoza)
Read more