Cougar Strong: UH Sugar Land After the Storm
Before the first day of classes, after the storm that dumped unprecedented amounts of rain in the Houston area, students at the University of Houston College of Nursing gathered in the large multipurpose room in groups. Each table was comprised of students and one professor. This wasn't a class. This was a time to talk about their experiences—as a volunteer, as an observer, as a flood victim.
"We know as nurses that before you can care for someone else, you have to care for yourself. We needed to talk about this traumatic event and get it out. We needed to talk and hug and cry and hold each other," said Kathryn Tart, founding dean of the college. "And then we needed to get to work. What were the needs and who could we turn to for help."
Tart said students talked about watching the waters rise in their homes, about losing their books, stethoscopes, uniforms and cars. They talked about needing to reach parents with medical needs, but not able to maneuver through the waters. They told of relatives lost to the currents. There were stories of pulling up carpet or sheetrock, housing displaced friends or being displaced and housed by friends.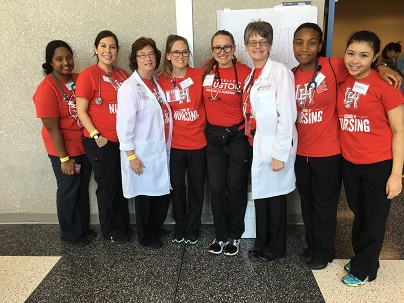 Some faculty and students who were participating in clinical activities in area hospital emergency rooms found themselves in lockdown situations, unable to leave, but able to tend to patients, their families or each other.
"As a group, we volunteered with The Fort Bend Public Health Department, the Stafford Red Cross Center, the George R. Brown Convention Center and at NRG," Tart said. More than 60 students—futures nurses—gave hundreds of volunteer hours. "This is our profession and this is what we do."
***
"My friend lived in Bear Creek, near the Addicks reservoir. The water was above the doorknobs in his house," said Elizabeth Garcia, a digital media student at UH Sugar Land. Her friend also is a UH student. "He lost everything. I wanted to help him clear out the house, take pictures and document everything for his insurance people."
Garcia captions the experience: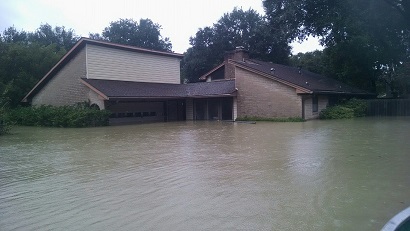 The damage is nearly total. Luke has been able to save some clothes, dishes, and glassware, but not any of his furniture, books, art, guitars, or his piano.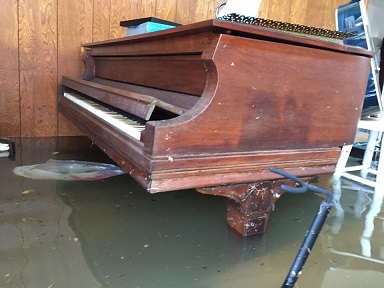 Today Luke has been documenting the damage and then taking what is not salvageable to the curb. Tomorrow is demo. I hunted down boxes, brought drinks, shuttled people to a workable bathroom, packed what I could of the dishes and delivered those to a new location to be cleaned.
Tomorrow we will move out all unsalvageable big items and Sunday is tearing out sheetrock, carpet, and wood paneling on the walls.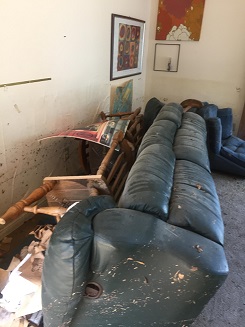 I wanted to do this because Luke is my friend and he needed help. My house was high and dry with no damage or loss of power. I was updated through the storm about Luke's house.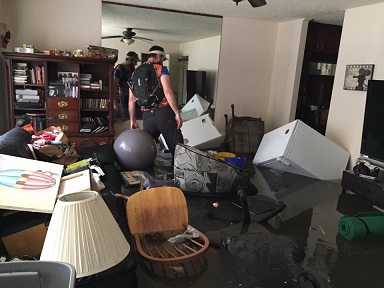 He had to evacuate on Sunday and had almost no time to get anything out. Luke is one of those students where you don't know how they do it all. He holds down a full time job and goes to school. He is incredibly smart, hardworking, and generous. We have spent many nights with friends playing games, eating good food, sharing music and laughter in Luke's home. Now it's all destroyed.
***
Faculty and students with the College of Technology Supply Chain and Logistics Technology volunteered with the Houston Food Bank in the days following the floods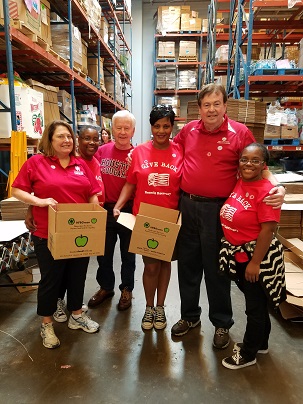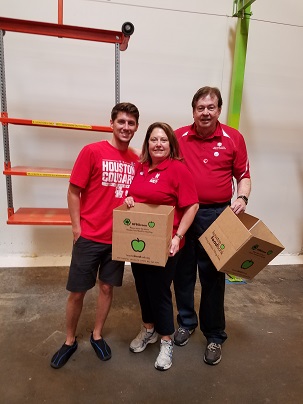 ***
David Martin is a junior majoring in digital media. He watched as the flood waters rose near his Woodland Park apartment.
"The water got over the curb. I was on the balcony watching the rain and there was a guy who flooded out and was pushing his car, so I went out to help him," Martin said. "I saw more flooded out cars, so I blocked the street with orange cones. Later I took some video of cars coming towards the water and posted it on Twitter."
Within moments, the online weather site "WeatherNation" asked if they could repost the video (Aug. 26 post).
#FlashFlood emergency continues for #Houston. Please use extreme care if you *must* travel the area tonight #Harvey
"I posted on Twitter as part of a class project to do seven tweets in a week. The point was to find relevant content. When you have tweets that are community related or that engage audiences then it's relevant," he said. "We were not asked to do this during the storm, but what better time."
Please review the Hurricane Harvey Relief page for more information and resources.
Read more
Browse Related News Categories