Publishing Magnate, Digital Media Advisory Board Member Donates $10,000 to UH Hurricane Relief
The University of Houston College of Technology was one of six educational entities that benefited from a Hurricane Harvey Relief Fundraiser to assist those still recovering from the devastating impact of the storm.
The college was awarded $10,000 at the event, hosted by the Lien Hoa Buddhist Temple in southwest Houston and Wea Lee, president of the Southern Chinese Newspapers Publishing Company.
"The storm destroyed property, but not our confidence," said Lee. "We raised money to help educational entities in our area. We are here to tell the world that we are united in helping each other."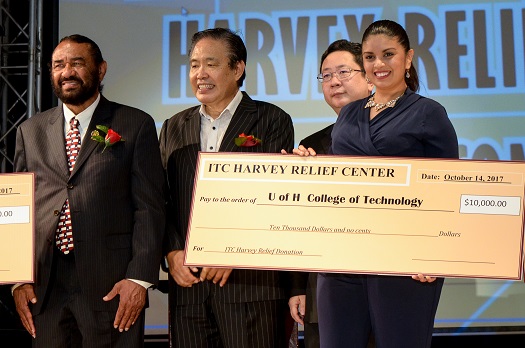 Margarita Perez, director of development at the college, accepted the donation on behalf of the University and Anthony P. Ambler, dean of the College of Technology. The gift will become part of the UH Cougar Emergency Fund (Hurricane Harvey).
"We are grateful to Mr. Lee for his leadership and his generosity," Ambler said. "Because of him and his supporters, many of our students, who still are struggling to recover, will have the assistance they need to return to their regular life of just being a student."
Lee also is the founder of the International Trade Center in southwest Houston and on the advisory board of the UH Digital Media program, housed at UH Sugar Land.
"We are all one family," Lee said. "At this moment, we are united as a family to fight for our future together."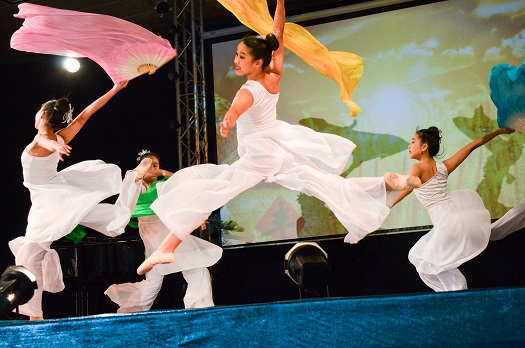 Others who received donations include:
Alief YMCA
Alief Independent School District
Lien Hoa Buddhist Temple
Huaxia Chinese School
ITC Emergency Center
Congressman Al Green, whose 9th Congressional District extends into Fort Bend County, attended the event.
"If you are here tonight, it's because you want to recognize those who helped," he said. "There are many still in recovery. The government will do what it can, but neighbors helping neighbors is what it's about."
Green, Lee and other dignitaries recognized more than 100 residents as "Harvey Heroes" for roles they played in helping their communities following the storm. Included were two Fort Bend Independent School District student-musicians—Xiangzhi Liu and Xiangchen Liu—who donated their childhood savings to the relief effort.
University of Houston students may find information about the UH Cougar Emergency Fund (Hurricane Harvey) on the Hurricane Harvey Relief page.
If you are interested in donating to the UH Cougar Emergency Fund (Hurricane Harvey), visit the University's gift giving page.