Annual Scholarship Banquet Celebrates Students, Benefactors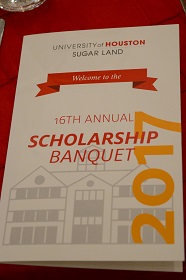 Students representing a diverse group of academic disciplines gathered at the Safari Texas Ranch for the University of Houston at Sugar Land 16th Annual Scholarship Banquet. The event celebrates student scholars and the donors and foundations that support them.
"We're proud of our students' accomplishments. We believe in them, and we're grateful to have the continued support of our donors," said Jay Neal, Assistant Provost of Academic Affairs and Operations at UH Sugar Land.
The event was underwritten by the Fred and Mabel R. Parks Foundation. Stephen Morgan, reporter for FOX 26 News, served as emcee for the event.
This year more than 250 students received scholarships to pursue their graduate and undergraduate studies.
UH Graduate College of Social Work student Matthew Gaines shared his story on how his scholarship has impacted his academic goals.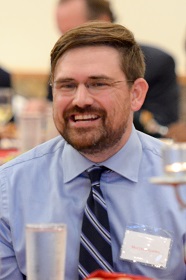 "As a single dad who works full time, receiving this scholarship in my final year of grad school will go a long way to helping me realize my dream of serving those who have served." Gaines, who received a scholarship from the Fred and Mabel R. Parks Foundation, completed two tours of duty in Iraq and said he aims to help fellow veterans as a clinical social worker.
"I know the feeling of returning home and realizing that your world will be different... but I also know that help is out there, and I want to be someone who provides that help," he said.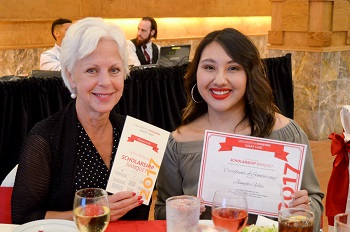 Two new scholarships were awarded this year. The Carl Favre "Heart of Gold" Memorial Scholarship was created by Mary Favre in honor of her late husband.
The Eugenia Blomstrom Endowed Scholarship was created by Blomstrom, a UH alum who spent her life as a nurse and later a nurse educator. Blomstrom also was the first faculty retiree from the UH College of Nursing.
Stephen Morgan, emcee for the event, also announced two new scholarships for next year's event. The Nancy Louise McKenna Endowed Nursing Scholarship, created by Karen Chitty-Boe in memory of her mother who spent 50 years in the nursing field and the Kathryn M and William David Tart Endowed Nursing Scholarship created by Kathryn Tart, dean of the College of Nursing and her husband.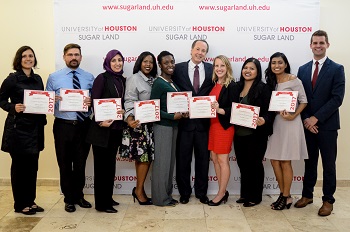 This year students received scholarships from:
The Alton L. Warren and Carolyn F. Warren Endowed Scholarship
The Alumni and Friends Scholarship
The Bill and A.J. Yeoman Endowed Scholarship
The Carl Favre 'Heart of Gold' Memorial Scholarship
The Eugenia Blomstrom Endowed Scholarship
The Ed Rachal Foundation Scholarship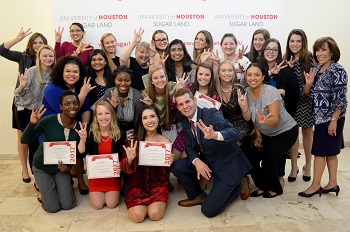 The Fred and Mabel R. Parks Foundation Scholarship
The George Foundation Scholarship
The George Foundation Nursing Scholarship
The Gulf Coast Medical Foundation Scholarship
The John S. Dunn Foundation Scholarship
The Marjorie Akers Hilty Gurasich Endowed Scholarship
The Michel Miller Memorial Endowed Scholarship
The Michael Baldwin Memorial Endowed Scholarship
The Montgomery Family Trust Nursing Scholarship
The UH Fort Bend Alumni Association Scholarship