Superintendent of Fort Bend Schools Heads to the Classroom
"I always wanted to be an educator."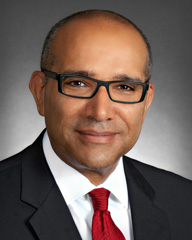 Dr. Charles Dupre, superintendent of the Fort Bend Independent School District, is adding the title of 'professor' to his resume. Dupre is currently teaching a course at the University of Houston at Sugar Land. The course on school law is part of the M.Ed. in Administration & Supervision program, a hybrid principal preparation program offered exclusively at UH Sugar Land.
"I wanted to establish a program where members of the FBISD leadership team work collaboratively with the experts at the University of Houston to educate our future school leaders on what it means to be a highly effective leader in education, specifically in Fort Bend," he said.
Students in the inaugural cohort were selected through a rigorous application screening process where both Fort Bend ISD and University of Houston personnel worked collaboratively to select each candidate. Each of the student participants are considered to be highly effective teachers in the Fort Bend school district, all of whom have aspirations of becoming principals, assistant principals or district-level leaders. The cohort meets face-to-face and via an online learning platform. Dupre is currently co-teaching a course with Dr. Joe Rodriguez, the FBISD Chief of Schools.
"Joe has been a teacher and a principal. I have led at the organizational level, so we complement each other," he said. "We talk about personnel, laws around teaching and learning. Our students ask questions from the perspective of teachers, so I always ask them to look at the questions from the perspective of the positions they are aspiring to, as future principals and assistant principals."
Dupre, a UH alum (he holds a master's degree in Educational Administration from the College of Education), first discussed the idea of developing a University/District collaborative with Bradley Carpenter during the summer of 2016. Carpenter currently serves as an associate professor in the UH College of Education's Department of Educational Leadership and Policy Studies (DELPS), and has previous experience as a Texas public school teacher, assistant principal and principal. His research focuses on preparing effective, mindful and social justice-oriented leaders for large urban districts.
"When Dr. Dupre approached the University of Houston with the idea of developing a specialized cohort for Fort Bend ISD, our entire UH team was eager to begin planning," he said. "We knew UH Sugar Land was uniquely positioned with the resources and talent needed to build a top-notch program for the aspiring leaders of FBISD." Within weeks of discussing the idea, UH and FBISD launched a task force to develop the vision, mission and objectives needed to successfully launch the program in the fall of 2017.
Carpenter developed a professional relationship with Dupre during Dupre's tenure as superintendent of the Pflugerville Independent School District, near Austin. Carpenter noted, "Charles was very clear in his desire to launch a program where students would be equipped with the skillsets needed to effectively execute the district's core beliefs, namely that every student graduate with the ability to realize their identity as an effective, integrity-minded leader."
Carpenter and Dupre also worked with UH Sugar Land to develop an Executive Ed.D. in K-12 Professional Leadership. Both the master's and doctoral programs launched their first UH/Fort Bend ISD cohorts this fall. Dupre hopes to teach a course focused on the superintendency next year.
"This is what I was always called to do," he said. "Being superintendent is an amazing job and I love it, but this is my retirement—teaching."