New Nursing Graduates Take Part in Traditional Pinning Ceremony
Twenty students from the University of Houston College of Nursing will mark the occasion of earning their nursing degree with the traditional Pinning Ceremony. The event is planned at 4 p.m., Friday, May 12 at the Brazos Hall Multipurpose Room at the University of Houston at Sugar Land.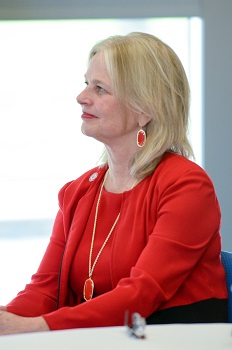 A pinning ceremony is a rite of passage for nursing students that acknowledges the hard work that ends their academic journey and begins their new role as professionals.
"The pinning ceremony is something they'll remember for the rest of their lives," said Kathryn Tart, professor and founding dean of the college. "All their studies and exams are over, and they've made it with the help of their professors, families and classmates. The pin we place on them marks this moment. It is especially nice to have the pinning ceremony on the last day of National Nurses Week."
University of Houston Provost Paula Myrick Short will serve as the keynote speaker.
Of the 20 students being honored, 10 will have completed graduate studies for careers as family nurse practitioners, nurse educators or nurse administrators, and 10 will have completed a Bachelor of Science in nursing. They'll be "pinned" by the College's lead faculty.
The pin students will receive is unique to UH. At the center of the circular pin is a gray, interlocking UH that represents the student's journey and partnership with the University of Houston and relationships along the way. A red border inscribed with "University of Houston Nursing" represents passion, advocacy, love, caring and leadership—the values of UH Nursing. Finally, a gray banner at the bottom indicates the degree the student has earned and the culmination of their studies.
"Every nursing program throughout the nation has a unique pin." Tart said. "It's with pride that a student wears the pin as it indicates to patients and the public where the he or she earned their nursing degree. It is part of a tradition that nursing programs celebrate."
The pinning ceremony has its roots in the 12th century when monks treating those injured in battle were given crosses as a symbol of their vow to serve the sick. In the 1860s Florence Nightingale was given the Red Cross of St. George in recognition of her service to the injured in the Crimean War. By the turn of the 20th century, the practice was standard for nursing school graduates.