UH Nursing Students Spend Mini Semester in Methodist Hospital's MITIE Lab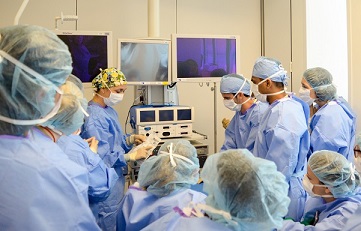 Twenty students from the University of Houston College of Nursing took part in a day-long training at the prestigious Houston Methodist Institute for Technology, Innovation & Education (MITIE) lab to learn about the role of surgical nurses. The elective class was offered during the University of Houston at Sugar Land mini-semester.
A patient undergoing surgery will encounter an operating room nurse before, during and after a procedure. Operating room (OR) nurses are an integral part of the surgical team, protecting patient safety and advocating for the patient while in the OR, and are the liaison between the medical team and the family.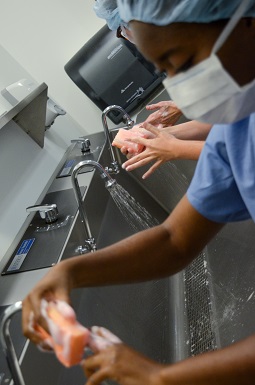 "This was a valuable mini-semester for our students who are considering careers as operating room nurses," said Kathryn Tart, Professor and Founding Dean for the college. "There is a critical need for operating room nurses nationwide. Most nursing programs do not have the operating room specialty as part of the general nursing curriculum. We are delighted our students have the opportunity to have this experience."
The MITIE lab provides simulated operating room technology and experiences for health care professionals. The virtual experiences, under the guidance of Methodist Hospital experts, provide mentoring and training.
"This particular class works as a pipeline to expose nursing students to the OR and introduce them to a possible career as an operating room nurse," said Danielle Quintana, assistant clinical professor and lead faculty for the class. "To be able to partner with Methodist, our clinical affiliate, and offer this high level of training and technology to our students in the MITIE perioperative simulation center is incredible. The students will remember this day forever."
In addition to the UH students, four nursing students from Swansea University in Wales, a partner campus, participated in the course. The exercises at the MITIE lab included scrubbing, gowning, gloving, preparation of the sterile field in the operating room, and an overview of surgical instrumentation. Students will earn two hours credit for the elective course.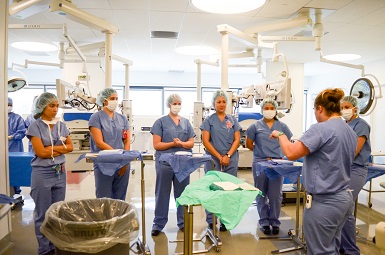 The day at the MITIE lab is part of an intensive introductory operating room course. In addition, there are several other mini-semester courses centered around real-world experiences in the highly charged environments where nurses work. For example, students also have an opportunity to learn about emergency room (ER) nursing in a mini-semester course that will take them to the ER at Ben Taub Hospital, an elite Level I trauma center, which also serves as a teaching facility and is a clinical affiliate for the University of Houston College of Nursing.