UH Digital Media Students Finish with Honors
Nearly half of the students who graduated from the University of Houston Digital Media program did so with honors at the College of Technology's spring convocation ceremonies. Of the 46 graduates, two earned the distinction of summa cum laude, ten received magna cum laude distinctions, and eight graduated cum laud.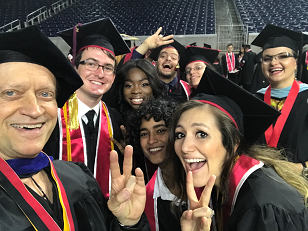 "These students deserve it. They've worked hard," said Jerry Waite, professor and program coordinator. "This graduating class may be the most accomplished graduating class we've ever had."
The Digital Media Program is one of the inaugural programs at the UH Sugar Land Campus.
New graduate Taunie Reddington, who specialized in motion media, earned numerous awards at the annual Red VidFest presentations. Additionally, she earned a first-place trophy for her business plan pitch for EnterTRAINment. Reddington will work full time for HCSS Software in Sugar Land, Texas as a University Program Marketing Specialist where she'll be responsible for placing the firm's software in construction management courses.
"Taunie is one of the most remarkable students I've ever had the privilege to mentor," Waite said. "After an education spanning the United States and a stint working in Hollywood, she's poised to take the world by fire."
New graduate Kevin Le pursued the e-media concentration and is now working at Accenture, an international management consulting firm that deals with management, strategy and digital technology. His long-term goal is to become an information security engineer. His work in one class earned him accolades from Professor Monika Alters who noted, "Teams had to create a branding campaign, which included buyer personas, logo and style guides, website, several videos, printed pieces and interactive guides." The clients chose Kevin's team as the winner. Some of Kevin's team's work can be found on YouTube and the team's class project page.Be sure to check out his digital magazine.