UH College of Nursing Among the Most Elite in Nation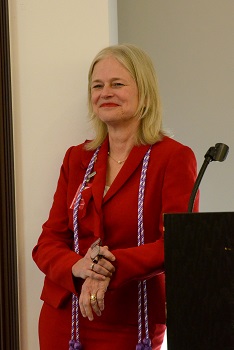 The University of Houston College of Nursing further solidified its place among the most elite programs in the nation with news that, for the third year in a row, students from the Second Degree BSN program earned a 100  percent, first-time pass rate on the national licensure exam for registered nurses.
"Our students lead the nation in this impressive accomplishment," said Kathryn Tart, founding dean of the College. "Current and future students know that excellence is part of the fabric of our college—our programs and our faculty—and that excellence will follow them into our nursing profession."
This accomplishment places the college in the top five percent of nursing programs in the nation. The national average for first-time passing on the national licensure exam is 84 percent. The state rate is 85 percent.
The Second Degree BSN program is an intensive one-year program for students who already have degrees in other areas, but want to become nurses. 98  students are enrolled in the program this year.
Among them:
76 percent have a Bachelor of Science; 16 percent have a Bachelor of Arts
3 percent of the class have master's degrees
15 percent of the students are male
The majority of student received their degrees from higher education institutions in Texas. Eight percent received degrees from out-of-state institutions.
The UH College of Nursing is one of the inaugural programs at the UH Sugar Land Campus. The College offers the RN-BSN program for registered nurses with an associate's degree, a master of science in nursing with tracks in Nursing Administration, Nursing Education and Family Nurse Practitioner, as well as post-master's certificates. The Second Degree BSN program is for individuals who have completed a prior university degree and want to become a nurse. Visit uh.edu/nursing or 832-842-8220 for more information.
Read more