New Digital Media Concentration More Than Video Games and Apps
With the introduction of a new Gaming and Simulations concentration, the University of Houston Digital Media program positions students to enter an arena ripe with new technology jobs for an industry valued in the billions of dollars.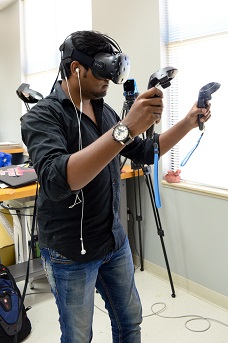 But creating video games for computers, phones and tablets only begins to scratch the surface of the new innovative area of study, which students at UH Sugar Land can pursue beginning in fall 2017.
"Instead of being focused entirely on conceiving, designing and programming games, our students will know how gaming, simulations and mobile apps can be integrated into a business' marketing plan," said Jerry Waite, professor and program coordinator. "This program places a priority on return-on-investment—graphic products that make a difference to the client's bottom line."
The concentration of 18 credit hours focuses on computer programming, e-publishing, 2D and 3D animation, as well as mobile application design, and simulation and gaming. Waite says the program will be very competitive, accepting the highest performing students.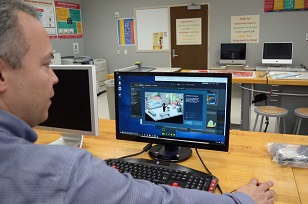 "There is a revolution happening in the world of simulation, gaming and apps due to the accessibility of virtual reality and augmented reality on mobile phones," said Jose Baez-Franceschi, assistant professor and lead instructor for the Gaming and Simulation curriculum emphasis. "Students will learn not only programming and design, but also current virtual, augmented and mixed reality technologies. This is an excellent area of emphasis for students who wish to unleash and apply their creativity, imagination and technical skills for the development of innovative solutions."
The Digital Media program, the first College of Technology program at the UH Sugar Land Campus, is a cross-disciplinary curriculum, covering basic software tools to audience analysis, costing, business management, data mining and estimating. The Gaming and Simulations concentration builds on that body of knowledge.
For more information on the digital media program concentration in gaming and simulations visit uh.edu/tech/digitalmedia.
"The ultimate goal of our Digital Media program is to be the world-wide hub for digital media activity," Waite said. "We can envision partnerships that draw more industry and employees to our Fort Bend County home."