Graduate College of Social Work Sees Program Growth on Sugar Land Campus
The Master of Social Work (MSW) program at the University of Houston at Sugar Land is intense. In this hybrid program, students complete online coursework during the week followed by an all-day Saturday class. Students are juggling work and home duties. Yet for all its rigor, the lone program from the UH Graduate College of Social Work (GCSW) in Sugar Land has seen a steady increase in applications since its inception in 2015.
"Four years ago our admissions office determined that the second largest group of MSW applicants came from Fort Bend County (Harris County was first)," said Ginger Lucas, clinical assistant professor and director of the College's online MSW program. "That's when we started looking for ways to offer classes to those students who lived in Fort Bend County and wanted the convenience of taking classes there."
The first cohort enrolled in fall 2015. There were eight students. By spring 2016 enrollment increased to 22 students; by fall 2016 the second cohort enrolled with 26 students.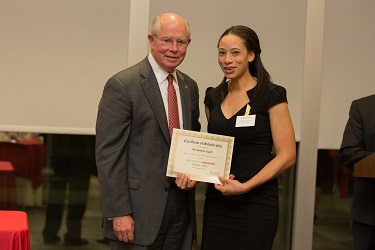 "I chose to take my classes there because the parking is free, and the walk to class is a lot shorter than the one on UH," said student Shay Ugoh. "I also enjoy the comfortable classrooms with long tables that have convenient outlets for charging laptops. I also liked the smaller class size and the free lunch is definitely a welcome bonus!"
Ugoh's professional goals are to become a medical social worker in a hospital serving high-risk populations.
"We anticipate that by fall 2017, the Sugar Land program will have upwards of 75 Saturday students pursuing their master's in social work," Lucas said. "We're very pleased with the progress of this program at UH Sugar Land."
Students indicate they like the free parking on the Sugar Land Campus, no commute, new facilities and excellent technology support. While the curriculum is the same as the program offered in the traditional face-to-face classes at UH, there are aspects of the UH Sugar Land program that are unique. Lunch is provided to students during their all-day Saturday classes and during the lunch hour, a variety of speakers are invited in to address topics such as resume building and career advice. Additionally, the three cohorts of students have an opportunity to connect and network with each other. Come fall 2017, students will have an MSW academic advisor available to them on Saturdays at the UH Sugar Land Campus.
"I do think that as we see continue to see growth in our UHSL hybrid part time program we may offer a full time program, but that is in the long term," Lucas said.
The first cohort of students will graduate in May 2018.
For more information, visit www.uh.edu/socialwork/academics/msw/hybrid/.