Student Success: Maggie Gutierrez
Professionals in the printing industry gathered recently at the University of Houston Sugar Land for an exclusive training in the G7 method (short for grayscale plus seven colors), a color printing and reproduction process that ensures a consistency in colors. The method was developed by Don Hutcheson of IDEAlliance and is considered the gold standard for color printing. In his UH Sugar Land training class were professionals from the U.S. and around the world, and also Maggie Gutierrez, a Digital Media major whose studies emphasize printing and packaging. The training provided her a credential that places her among those who can train others in the process.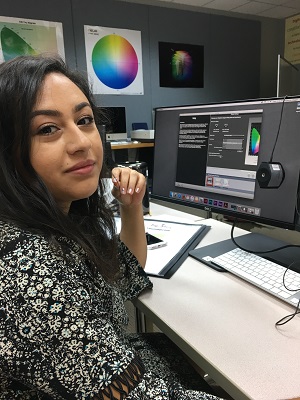 "Maggie passed the national certification exam, which means she has the ability now to certify any company she works for," said Jerry Waite, professor and coordinator of the digital media undergraduate program. "During a G7 training at UH Sugar Land with the founder of the technique, Maggie seemed at home in a group that included seasoned professionals from California through London."
*Maggie, what drew you to the Printing and Packaging program?
I was first drawn to this area when I saw the flyer. Initially, I was interested in the eMedia area of emphasis, but after attending Dr. Waite's 3350 class I became interested in the Print and Packaging emphasis. I definitely want to be in packaging leadership for sure. I'm planning to move to California after graduation and will be working in the Irvine area.
*Before attending the training, what did you know about the G7 training?
I surprised myself at how much I knew about G7, all thanks to Dr. Waite and Digital Media 4373 class. I knew G7 was a way to color-manage grays so that other colors were improved. I also knew how to calibrate our Xerox printer using the G7 method. This was the first time I participated in a certification class in college. I was nervous about meeting professionals in the printing industry and really wanted to make a good impression and represent our program well.
*What were you interested in learning?
You don't really think about how color is perceived or created. It's one of those things that just is for some of us (in the industry or studying it). A lot of the training consisted of why it was important and how it works, which was the most interesting. I was interested in the whole process. We got to use some of the equipment at school and learned to do some neat tricks in Photoshop.
*How will this help you in the workplace?
I really enjoyed the course, I was able to hear from other professionals and listen to what they get to work with and how they deal with some of the issues they come across. I can't thank Dr. Waite enough for allowing me to participate in this course.
I took the G7 certification test, received a certificate and am now a G7 professional. This means that I am trained and tested by IDEAlliance and am authorized to re-qualify a company I work for in G7, which is really exciting because it means they have to keep me, but hopefully they like me too!
Not to sound too cheesy, but the Digital Media program really did save my life and I've made some lifelong connections that I don't think I would've gotten anywhere else.