Cougar Card Services Now at UH Sugar Land Stop by the Campus Support Services Office for your Cougar Card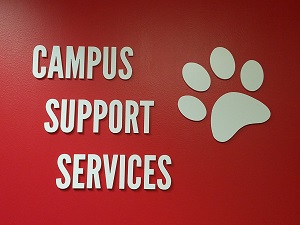 For University of Houston Sugar Land students, staff and faculty, it just got a little easier to be a card-carrying Cougar.
The office of Campus Support Services is now an official Cougar Card location for UH Sugar Land, meaning it no longer is necessary to drive to the Main Campus in order to secure the card.
The office, located in room 101 of the George Building, is open 8 a.m. – 7 p.m. Monday and Tuesday, and 8 a.m. to 5 p.m. Wednesday through Friday. UH Sugar Land students, staff and faculty may stop in, have their picture taken and their Cougar Card printed.
"This is a significant milestone for the UH Sugar Land Campus as the services and programs continue to expand here," said Chamal Reyes, program manager. "Our campus community also may submit their photo online to have their card ready for pick up. Replacement cards are also available in cases where the card has been lost or damaged."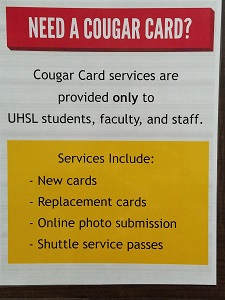 The Cougar Card is the key to participating in many UH activities, such as printing documents, buying meal plans, securing access to academic or administrative buildings and rooms and athletic events. Additionally, students can receive a UH Sugar Land shuttle sticker for their Cougar Card, both of which are required to ride the free UH Sugar Land Shuttle Service from the Sugar Land Campus to the Main Campus.
For more information, contact Campus Support Services at 832-842-2940 or SLOffice@uh.edu.