Spotlight: UH Sugar Land Information Technology
Negotiating the many advances in technology in order to maintain your work efficiency requires the constant help of the experts.
…And the University of Houston at Sugar Land Information Technology staff has heard it all—from frozen computers to faulty email addresses to an AV system that won't turn on. And while you turn your computer off and on again at their suggestion, you really haven't encountered the depth and breadth of what IT can do to help you use technology efficiently.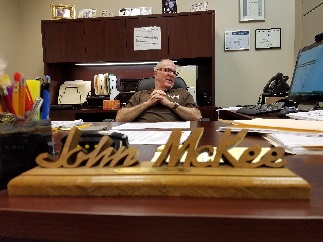 For starters, cloud videoconferencing. McKee says his department uses infrastructure from Zoom Communications that allows you to connect your group of up to 50 people on video and phone at the same time. This service through UH Sugar Land IT can help faculty maintain virtual office hours or help students connect outside of class time. Guest speakers from off campus, or even around the world, can be brought into any classroom and interact with students.
"While connected, users can easily share content, including other streamed videos, write notes on a virtual whiteboard, record the session in high definition format, break off into individual rooms, and text chat with each other," McKee said. "The possibilities are limitless in extending programs and services both on and off campus."
Think you need to hire tech consultants for advice on your next big project? The IT staff of eight full-time and five part-time members are experts in their fields and available for consultation and design services. McKee's team conducts a technical and logistical needs assessment, evaluates hardware and software options, and design project specification. They'll even help develop cost estimates and budgets.
UH Sugar Land IT can help with hosting systems and equipment. "If programs need equipment or connections to provide special services, IT can provide host space and support," McKee said. Some programs maintain file servers or storage space in the IT Server & Control Room, while other programs maintain equipment in the campus telecom rooms.
And while your needs may be immediate, IT is always looking to the future. By the beginning of the fall 2017 semester, IT will upgrade additional classrooms with new AV projection and collaboration systems. They're also looking into the feasibility of providing wireless printing kiosks around campus so students can print from their laptops or mobile devices.
"And in the coming months we'll be seeking input from students on the kinds of IT services they need," he said. "This online survey is part of our strategic plan to encourage them to voice their opinions on the level of customer service they currently receive."
To reach UH Sugar Land IT for these or any other needs email them at sltech@uh.edu, call the IT Service Line at 832-842-2999 or reach out online at https://slsupport.uh.edu.