Student Video Work Celebrated in Annual Red VidFest
The stage is set for the Fifth Annual Red VidFest, a showcase of student films hosted by the UH Digital Media Program. The film festival and award ceremony recognizes students' best video productions of the academic year. The event is planned for Friday, May 5 from 1 – 4 p.m. in Brazos Hall Auditorium, room 180. It's free and open to the public.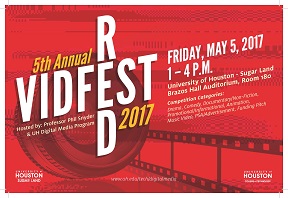 Students from all Digital Media programs enter the competition. Trophies are awarded in eight categories: comedy, drama, animation, promotional/informational, documentary/non-fiction, PSA/advertisement, music video and funding pitches. Students write, edit, shoot and direct the films and may enter in as many categories as they wish.
"I started Red VidFest in 2013 as a way to give my video students additional incentives to strive for excellence in their productions," said Phil Snyder, Instructional Assistant Professor of Digital Media, producer and host of Red VidFest. "Students from all our programs' majors and minors submit their work. Our event showcases the top videos of our future professionals."
All entries are judged by Digital Media faculty. The top three in each category are screened during the event, with winners announced at the end of the showcase.
Check out the 2016 Red VidFest winners.
Read more