Nursing Students Gain Insight Through Virtual Dementia Activity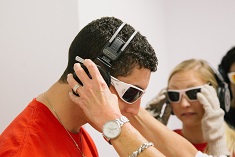 More than 80 students from the University of Houston College of Nursing participated in an activity to help them gain a better understanding of what it's like to be a patient with dementia.
"Virtual Dementia" is an activity created by The Second Wind Dreams Foundation in Georgia. The activities allow family and caregivers to simulate the sensory losses common to dementia patients. The demonstration was administered by the Senior Trust Alliance of Fort Bend County.
The students, all from the Second Degree BSN program, were outfitted with heavy gloves to simulate the loss of tactile senses, special glasses that simulate macular degeneration, headphones playing loud white noise to simulate hearing loss and spikey shoe inserts to simulate neuropathy. Each was given five minutes to perform simple tasks, such as folding towels, setting a table, drawing a picture or finding 75-cents in a container of change.
"This was very eye opening," said student Mary Beth Loughran. "I never realized how impaired a person with dementia can be. I felt like I was stumbling. I could barely complete any of the tasks. This really will help me be more empathetic to dementia patients in my care."
There are more than 5.5 million Americans with age-related dementia in the United States. The disease is marked by a deterioration in memory, behavior and the ability to do everyday activities (World Health Organization).
"The most difficult part for me was the hearing impairment," said student Christina Saenz. "I couldn't hear myself think. I needed the tasks repeated to me. It made me feel very confused. It was almost like a complete sensory loss."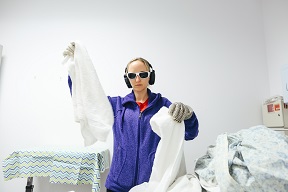 According to the World Health Organization, dementia is one of the major causes of disability and dependency in the elderly. Misunderstanding how the disease impacts an individual can result in barriers to care, not to mention additional stress on family, friends and other caregivers.
"This is an important experience for our students. In their careers they will care for many patients. This will help them manage the care they give," said Danielle Quintana, Assistant Clinical Professor. "They will leave with an understanding of the physical and sensory losses of dementia patients."
The Second Degree BSN program is an intensive one-year program for students who already have degrees in other areas, but want to become nurses.
Read more