Data, Design Thinking Hallmarks of Political Science Class
This year, Elena Farah, Ph.D. and lecturer, has more than textbooks to enhance her International Political Economy class. She uses data and design thinking to teach policy for the Digital Age.
"As a society, we face a host of very complex policy and economic issues with multiple, interrelated feedback loops; highly politicized, with vested interests, and notoriously difficult to tackle," she said. "In the current politically polarized climate, we go to the data whenever possible to make objective assessments on what works well and what could work better."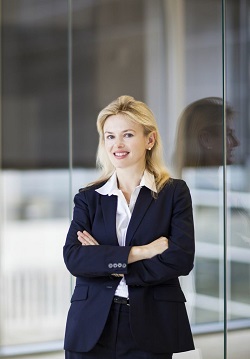 The semester-long political science class, offered at the University of Houston at Sugar Land, explores domestic and international public budgets, trends in revenues and spending, and the forces behind them. Students also learn to analyze the politics behind the spending priorities. And while the political climate is heated, Farah says she aims to create a safe intellectual space where students of varied opinions and backgrounds can have discussions that treat controversy respectfully.
Most importantly, she teaches students to ground the debate into objective frameworks for assessment and focus on critically analyzing available data sources in an environment where access to raw data is becoming increasingly available.
Many of Farah's students are preparing for legal careers, and there are some budding politicians and policy makers, as well as economists, in her class.
"My major goal is to help students learn how to thrive in an interconnected world of unlimited, complex information, to teach them how to raise the right questions and stay current on the changing policy environment and information available," she said. "After all, this is likely to be our human competitive advantage in a world of increased automation."
Farah is a sought-after expert on municipal pensions, and brings to the classroom corporate, academic and philanthropic experience in credit analysis and policy design and evaluation. In the fall, she will be teaching "Introduction to Policy." In this class, she'll focus on the use of "design thinking"—an approach popularized by Silicon Valley to create compelling user experiences, such as smart phones—and apply it to the design of public policy.
Students will "unpack" and re-design popular domestic and international policies to evaluate whether they work as intended, and how their design could be tweaked to provide incentives for policy recipients to achieve desired outcomes.
"My students come from various cultural and ethnic backgrounds. Many are first-generation Americans. Some are first in their family to obtain a college degree. Many are veterans," Farah said. "I am truly privileged to teach such a diverse classroom, and I value this opportunity to teach at the new growing campus in Sugar Land, which has been a great home to my family and me for many years now."