Student Success: Alexandra Richter and William Guinn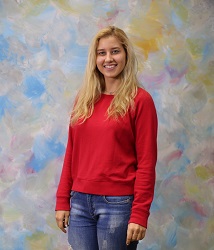 The photographs of two University of Houston Digital Media students were named finalists in an international contest that drew more than 13,000 entries. William Guinn and Alexandra "Sasha" Richter were notified that their images were recognized in the 37th Annual College & High School Photography Contest. The contest is sponsored by Photographer's Forum Magazine.
"I'm very proud of our students whose work stood out among thousands of entries from around the world," said Jerry Waite, professor and coordinator of the Digital Media program. "Our goal is to prepare our students to use technology, such as digital photography, to convey a client's message. William and Sasha are great examples of our success."
The digital media program is housed in the UH College of Technology.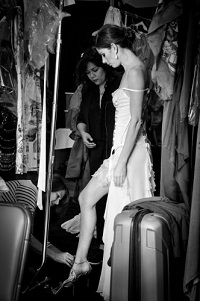 Richter's image, "Calm in the Midst of Noise," depicts the hectic backstage area at a River Oaks fashion show, and the many people who help the models prepare for their runway moment.
"Models have to look calm and collected on the runway, but the part most people don't see is the rush behind stage," she said. "I wanted to convey the professional skills, as well as the outstanding bodily awareness and control, which the models possess."
The model in the image is Vicki McCarty-Martinez.
Richter, a digital media major with an emphasis in motion media, aims to hone her skills for cinematic productions.
More than $8,500 in cash grants were awarded in this year's contest.  The gallery of all winners, honorable mentions and finalists can be viewed here.
The judges were from the Art Center College of Design in Pasadena, California, Michigan State University and Columbus State Community College.
"(This accomplishment) gives me a quiet confidence about my work," Richter said. "It's a way of telling future employers, 'of course I think my own work is great, but here are some other people - who aren't my mom - who also think so.'"