Digital Media Students Learn 'TransMedia' Approach to Storytelling
Read any good books lately?  Maybe you read the book, watched the television show, played the video game and tweeted about it.  If so, you've participated in an approach to storytelling called transmedia—the art of sharing a story-world across several platforms, and engaging an audience with new content on each platform. Digital Media students are learning this approach in a new class titled, "Transmedia."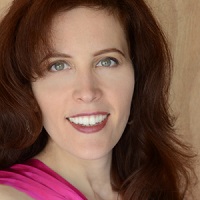 "People's attention are spread across all forms of media like never before, with the vast amount of time being spent on a mobile device.  Stories need to snag people's attention, and then lead them on a journey of further exploration and participation," said Karen Snyder, lecturer and transmedia producer. "Our students gain from using leading-edge tactics that blend creative execution, effective story-telling strategies and a technology-based awareness to distribute a story world."
The class, new for the UH Sugar Land Campus, teaches students to see a story through this lens. A semester-long project calls for them to research and develop a transmedia marketing campaign for a small business.  They'll incorporate writing, video, social media and photography. Snyder says creating stories through this strategy creates a professional with a greater ability and awareness to be competitive and innovative for a client.
Snyder's background began in southern California as a graphics designer with a focus on print media. Advances in technology ushered in an increase in client demand for different ways to tell a story. She became fluent in filmmaking, television and radio production, website and app development, video game production and e-books. This list of expertise later became the qualities of a transmedia producer. Her Trans/Seven Studio in Sugar Land produces video, video games, apps and gaming strategies.  It's the home of Silver Spoon Theatre, a family-friendly, locally-produced transmedia sitcom-reality series.  She's also developed a transmedia romance series called The Elements Club.
"Southern California is the world's largest story producing center. Houston is on the verge of being the third largest city in the country, but lacks a strong media industry. I want to change that," she said.
Her goal is to develop an initiative to make the Houston-area a hub for transmedia services and video gaming production and promotion—benefiting the region and the students who will become the next generation of transmedia producers.
"My ultimate goal is to see creatives released into their calling. That internal passion that says, 'Yes, I can use my artistic gifts to transform companies, communities and lives. Yes, I can make a living from my passion. Yes, I am a story teller,'" she said.