Nursing Excellence Represented in University of Houston School of Nursing September 14, 2016
Three faculty from the University of Houston School of Nursing are recipients of the Good Samaritan Foundation 2016 Excellence in Nursing awards. The honor celebrates outstanding registered nurses in education and clinical practice in Houston and the Gulf Coast regions.
The honorees are: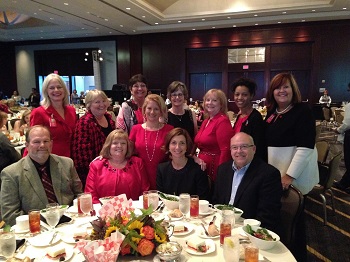 Silver award, Nursing Education Faculty category: Patricia Schrader, assistant clinical professor
Bronze award, Small Hospital category: Tracy McManaman-Bridges, lecturer
Bronze award, Nursing Education Faculty category: Daniella Quintana, assistant clinical professor
"These nurses demonstrate a passion for the profession and exemplify excellence in teaching, mentoring, leadership and service," said Kathryn Tart, professor and founding dean of the UH School of Nursing.
The ceremony took place at the Royal Sonesta Hotel Houston. Tart chaired the event and handed out the awards to the winners. Pamela Watson, professor and dean of the School of Nursing at the University of Texas Medical Branch served as emcee.
All honorees were nominated by their peers. Proceeds from the luncheon award ceremony benefited scholarships and other educational and professional supports from the Good Samaritan Foundation.
The University of Houston School of Nursing provides innovative, dynamic and nationally competitive nursing education to a diverse student population that builds professional leaders and clinical experts.
The School of Nursing is committed to serving educational needs, supporting lifelong learning, advancing excellence in regional and global health care through strong inter-professional collaborations and partnerships while advancing scholarship, research, leadership and service.
Founded in 1951, the Good Samaritan Foundation seeks excellence in nursing by increasing the profile of nursing; attracting young people to the field; alleviating the severe shortage of qualified nurses and nurse faculty by providing scholarships to students; supporting nursing school faculty programs, and encouraging increased collaboration among the hospitals, nursing schools and Greater Houston community.
"Because of the dedication of foundations like the GSF who only support nursing, employers, nursing education, students and nurses, can provide the best patient care possible," Tart said. "And that is where we find our hearts—in patient care."