Nurse Educator, Clinician has Prescription for Success: Education, Mentorship, Care Eugenia Blomstrom, 'The Best of Nursing,' Retires from UH School of Nursing
Full circle. That's how Eugenia "Ginger" Blomstrom described the occasion of her retirement after 45 years as a nurse clinician and educator. She began as an undergraduate at University of Houston in 1964 with a Social Sciences degree and now retires as an assistant clinical professor in the UH School of Nursing. Her teaching tenure at the School of Nursing spanned from 2008-2016. She is the School of Nursing's first faculty retiree.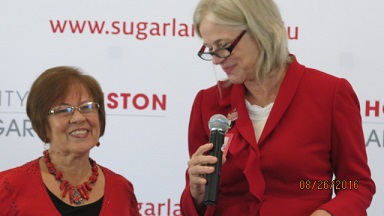 "The experience as an educator has been truly amazing as I make the complete circle to the original school that gave me my first glimpse at higher education, UH," Blomstrom said.
Blomstrom began her nursing journey in the 1970s as a nursing diploma nurse with Harris County Hospital and earned the Bachelors of Science in Nursing from UTMB-Galveston. She was an emergency room coordinator. She later pursed a graduate degree in nursing (clinical nurse specialist psychiatric/mental health) at The University of Texas Health Science Center at Houston, followed by a Ph.D. at UTMB.
Blomstrom, whose areas of expertise include psychiatric, gerontology, ethics and medication usage, said she has seen many changes and challenges in nursing, but some important aspects have remained the same.
"In the 1970s, nurses carried trays with pills and medication cards, wore white, clean, laced-up oxfords with white hose, starched uniforms and caps, and patients and staff could smoke anywhere and everywhere," she said. "Some things have changed, but patient safety is as important now as it was then."
More than 880 students have benefited from Blomstrom's guidance over the years. Now two scholarships will honor her life's work. One celebrates her years of service to the University and the nursing community and will be awarded to students at the School of Nursing. The second aims to create an affordable path for Hispanic students who want to purse nursing studies. Blomstrom and her husband, David, have made provisions for the Eugenia Ybanez Blomstrom Nursing Scholarship for the University of Houston School of Nursing.
"Dr. Blomstrom is a rock of integrity and ethics. She is a teacher, mentor and example to all her students and colleagues of what it means to be the best of nursing," said Kathryn Tart, founding dean of the UH School of Nursing.
Blomstrom's résumé includes work in administration, risk management, all aspects of surgery and as a hospital educator. The last 20 years of her vocation has been devoted to work as a clinical specialist- psychiatric nurse, specifically as a consultant with geriatric populations, general psychiatric with a heavy emphasis in polypharmacy and the impact of polypharmacy. She was chair of "Shape Up Fort Bend" and helped to write the original grants for that program. Additionally, she was vice president for the Sigma Theta Tau International Honor Society, Phi Chi charter chapter for the University of Houston. She also has been an educator for Texas Woman's University, University of Houston-Victoria and UH.
While she is retiring from the University of Houston, she will still work as adjunct and in her clinical practice.
"Nurses don't really retire," Blomstrom said.
Read more