Teacher with Passion for Elementary Science Honored at Graduation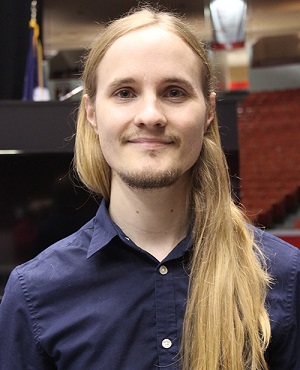 More than 300 students crossed the stage as part of the College of Education's fall ceremony Dec. 15. Leading the procession was Nick Morrow, whose 4.0 grade point average earned him the honor of carrying the college banner at the event.
Morrow, who received a bachelor's of science in teaching and learning, transferred to the University of Houston in fall 2014. He attended classes at UH Sugar Land, which offers the same top-ranked elementary school teacher-preparation program as the main campus.
"From the moment Nick walked into my office, I could tell that not only was he going to be a wonderful asset to our college but more importantly to the teaching profession," said his adviser, Erika Almaguer. "His gentle spirit, along with his proactive and positive attitude, is going to be a blessing in many children's lives."
The College of Education had a chance to chat with Morrow before the big day about his journey to become a teacher, his career hero (spoiler alert: Bill Nye) and his recipe for good grades.
Q: Why did you decide to enter the UH College of Education? 
A: I have had many alumni from UH, both educators and not, speak about the great experiences they had while attending the college. This, along with the fact that UH Sugar Land is in such convenient proximity, factored into my decision.
Q: What are your career plans after graduation? 
A: I plan to pursue a career in elementary education. I'm interested in teaching science at the higher elementary grade levels (3-5).
Q: What inspired you to pursue a career in teaching?
A: I worked as an audio engineer for five years and finally came to a crossroads in finding a sustainable career for myself and my future family. One day, I brainstormed with my wife and realized that I have always had a good rapport with kids and I love teaching anyone who will listen about all the cool things science helps us to know about the world. It seemed like a match made in heaven. I secretly want to be akin to Bill Nye for this new generation of kids.
Q: What professors inspired you the most and why?
A: Oh, wow, that is a tough question. It's one I don't think I could honestly answer because they have all inspired me in one way or another and have prepared me for the important work I'm about to begin. I'd like to give them all recognition. In chronological order from when I had them as professors: Chad M. Jones, Dustine Thomas, Sharon D. Spillman, Margaret Hale, Christin Baker, Caroline Roberts, Glen Russell, Zachary Gresham, Dawn Westfall, Heather Domjan, Carrie Cutler, Eleanore Tyson, Shea Culpepper and Christine Beaudry. Thanks, guys, you rule.
Q: Tell us about your background. Where did you grow up?
A: In a place called Bar-X Ranch in Angleton.
Q: What high school did you attend?
A: Angleton High School.
Q: Hobbies?
A: I love astronomy, playing guitar, reading and I'm a huge Harry Potter nerd.
Q: How did you manage to maintain such high grades?
A: First, it would not have been possible without the huge support of my awesome wife, Whitney. Ultimately though, I refused to sell myself short. I figured I am spending a ton of money to get an education so I will be dedicated to get everything I can out of it. There were a lot of late nights and long weekends dedicated to it.
Q: What does being the banner bearer at the graduation ceremony mean to you?
A: It feels great knowing that all the hard work is being recognized. I am honored to be bestowed with this role and to be leading my friends into the graduation, which is such a momentous time in all of our lives.