Appointment of Chief Population Health Officer
August 18, 2021
Dear Cougar Colleagues,
Given the importance of health and health care to the city of Houston and Texas, we at the University of Houston have placed increased emphasis on health-related programs, including the launch of the UH College of Nursing in 2015 and the UH College of Medicine in 2020. Today, I am pleased to announce another significant step forward with the appointment of Dr. Bettina Beech to the newly created cabinet level position of Chief Population Health Officer, effective Sept. 1.
In this role, Dr. Beech will oversee the integration of population health education and research across the University involving all disciplines from Medicine to Engineering to Social Science and Education.  Her first task will be to engage the faculty in developing a comprehensive implementation plan for Population Health.  I am certain that her leadership, coupled with our faculty expertise, will result in the formation of a bold and unique undertaking that soon becomes one of the preeminent Population Health programs in the country.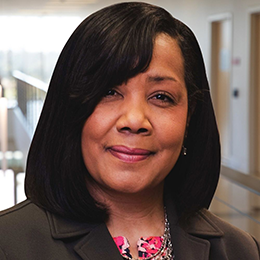 "I'm pleased to accept this appointment and welcome the opportunity to help UH realize its potential in this challenging but rewarding enterprise," said Beech.  "For decades, experts have known that health care alone accounts for only 20% of what actually makes us healthy.  A population health perspective considers the full range of factors that affect our health and well-being.  UH Population Health is a University-wide endeavor to implement innovative interdisciplinary degree programs, establish multi-sector partnerships, and synergize health-related research across the campus."
Dr. Beech joined UH in 2020 and is currently serving as the Associate Provost for Strategic Planning and Population Health Research.  After receiving her bachelor's degree in sociology and master's degree from Temple, she earned a doctorate in public health from the University of Texas Health Science Center of Houston, School of Public Health, and completed a postdoctoral fellowship in cancer prevention and control at M.D. Anderson Cancer Center.  She is a member of the Board of Directors for the national Humana Foundation, a member of Population Health Leaders in Academic Medicine national working group as well as a member of the Qualtrics Higher Education Advisory Council.
Prior to coming to UH, she served as the Associate Vice Chancellor for Population Health and Founding Dean of the John D. Bower School of Population Health at the University of Mississippi Medical Center, the third such school in the country.  
Please join me in congratulating Dr. Beech on this exciting new appointment.
Renu Khator