Award Given to Physics Professor Mark Meier's Industry-Supported Consortium
The University of Houston's Low Frequency Seismic Technologies Consortium was awarded the Licensing Executive Society's 2020 Deal of Distinction in the Chemicals, Energy, Environment, and Materials Sector.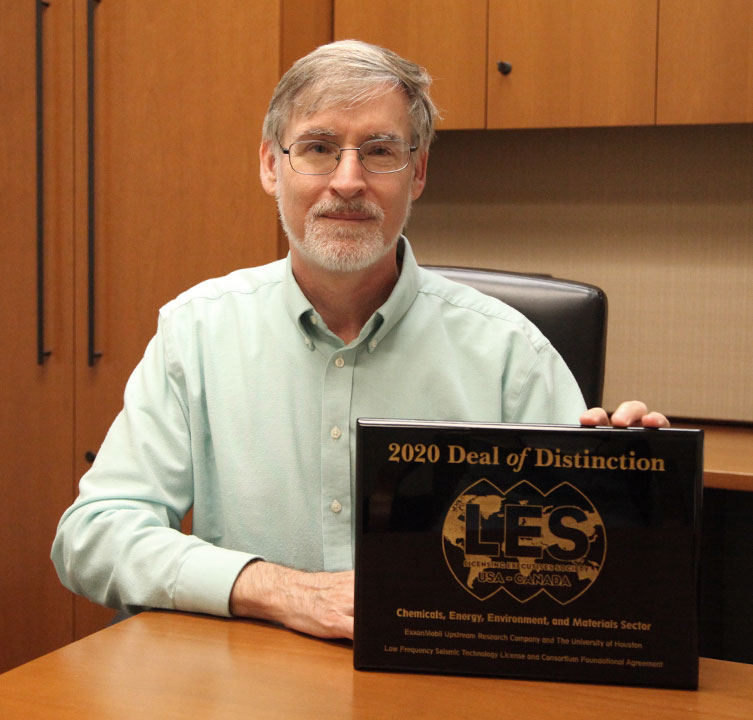 The consortium was established to build a collaboration between commercial and academic entities and to continue developing seismic exploration technology licensed to the University from ExxonMobil Upstream Research Company.
College of Natural Sciences and Mathematics Physics Professor Mark Meier is consortium director and received the award on behalf of the university.
Meier said in his acceptance speech, "the Low Frequency Seismic Technology License and Consortium Foundational Agreement between the University of Houston and the ExxonMobil Upstream Research Company licenses a valuable body of research developed by ExxonMobil to UH under terms that encourage both academic and industrial participation in furthering research and technological development, and eventual commercialization."
He adds the award is great recognition of the considerable joint effort between the University of Houston and ExxonMobil Upstream Research Company to form a licensing arrangement that supports the participation of additional industrial partners and creates the consortium.
"To have our effort be recognized as something that is unique and an advanced accomplishment is very rewarding," Meier said.
Timothy Kinn, commercial advisor for ExxonMobil Upstream Research Company and nominator for the award, said the license and consortium deserved the award because of its complexity, "the fact that it involved collaborative research between a university and a commercial entity, and the fact that it was a creative way to facilitate development of a technology by two entities that have very different drivers."
Equipment to Make Exploration Safer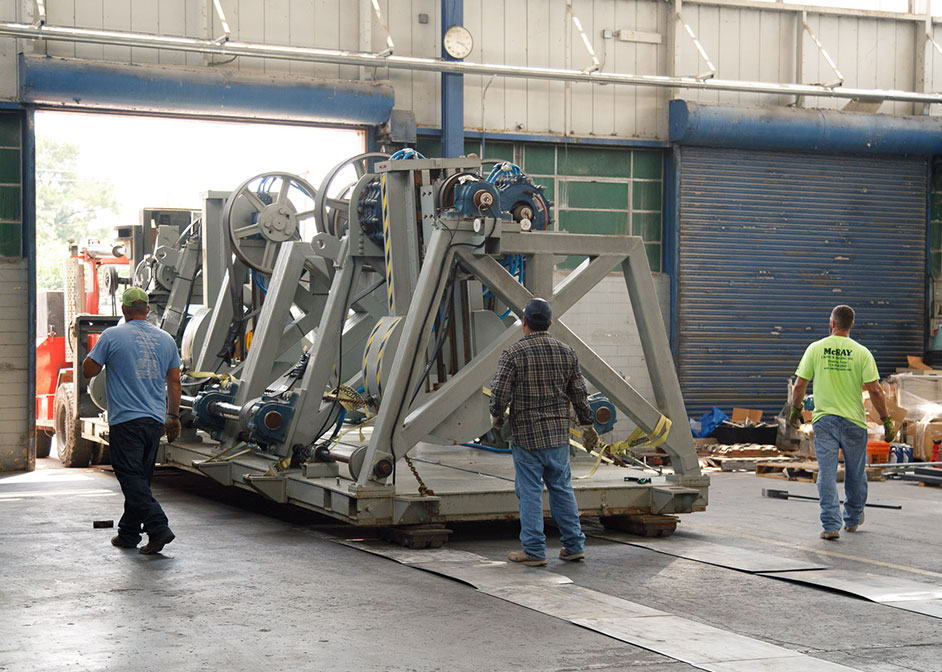 Part of the license agreement included transfer of prototype experimental equipment. Last year, the consortium received a 78,000-pound Counter Rotating Eccentric Mass Vibrator – eXperimental Prototype, or CREMV-XP. It creates strong forces at low frequency, generating wavelengths four times greater than current capabilities. The prototype helps scientists gather seismic data, which in turn informs them where to drill.
"If you have a resource and you have to drill many wells to figure it out, that's terribly expensive, especially in a marine environment," said Meier. "But if you can use tools to learn a lot about that resource before you drill one well, then you can do a lot less drilling. It's less expensive and it's a lot safer."
The force that conventional seismic technologies provide at low frequencies is still impractically small. Comparatively, the prototype creates large forces at low frequencies with counter-rotating eccentric masses, similar to the counter-rotation of interlocking gears.
"This will let us see the earth in a whole new frequency range," said Meier. "It's really a new regime of exploration of the earth. Who knows what additional earth science knowledge this might contribute."
Since receiving the machine last year, Meier has been working to prepare the electrical power connections and anchoring mechanism to get it running, and to create an office space nearby so contractors and students have a place to work.
Before the machine is completely ready for use, it requires additional work on the belt drive and motor control systems and user interface.
Future of the Consortium
In addition to the CREMV-XP machine, the consortium's program includes moving forward on a marine source to produce low frequencies and developing a transducer to measure the low frequencies.
Meier also plans to solicit national and international oil companies and geophysical companies to join the consortium.
- Rebeca Trejo, College of Natural Sciences and Mathematics