Fre'Etta Brooks ('17) at M.D. Anderson Cancer Center UTHealth Graduate School of Biomedical Sciences
When Fre'Etta Brooks moved to Houston from Seattle, her goal was to pursue an MBA. She was ready for a change.
Brooks already had a Bachelor of Arts in Psychology from the University of Washington but knew she did not want a Ph.D. in that field.
To establish residency in Texas, Brooks took a job as an executive assistant for a medical physicist at a Houston hospital; as the months flew by, she took on more responsibility at the practice, and those responsibilities grew into a genuine interest in medical physics.
"I thought, I don't have to go back for an MBA, I can change my mind," she said. "And that's what I did."
She enrolled at the University of Houston's College of Natural Sciences and Mathematics to pursue a Bachelor of Science in physics.
Formative Four Years
During her time at UH, Brooks remained busy. She continued working as a medical physics assistant, founded UH's Astronomy Society, was involved in physics research, the Society of Physics Students and volunteer work.
The advanced physics courses she took are currently helping with her Ph.D. courses. For example, her thermodynamics class with Moores Professor Margaret Cheung is proving to be important.
"Even now, we have had topics in thermodynamics come up, and I still remember what I learned in her class, especially because of her enthusiasm," Brooks said. "She managed to make it fun and interesting."
Cheung said Brooks is an inquisitive student who is attentive to details but keeps the big picture in mind when approaching an open-ended problem.
"I am extremely proud of her," said Cheung. "This medical physics program is very competitive. It takes only a handful of students with well-rounded backgrounds nationwide. Her solid training in physics and wide exposure in social science have prepared her for this challenge."
Brooks also worked closely with Donna Stokes, physics professor and now-associate dean for student success and undergraduate affairs.
"She is one of the most driven and motivated students I have taught," said Stokes. "Her determination and passion for physics is what helped her achieve her goals and go on to pursue a graduate degree in medical physics."
As founding president of the Astronomy Society at UH, Brooks organized a viewing of the solar eclipse in 2017 that brought in about 15,000 people from the Houston area over the course of the day.
"It took a lot of work," she said. "But everyone was so excited being a part of it."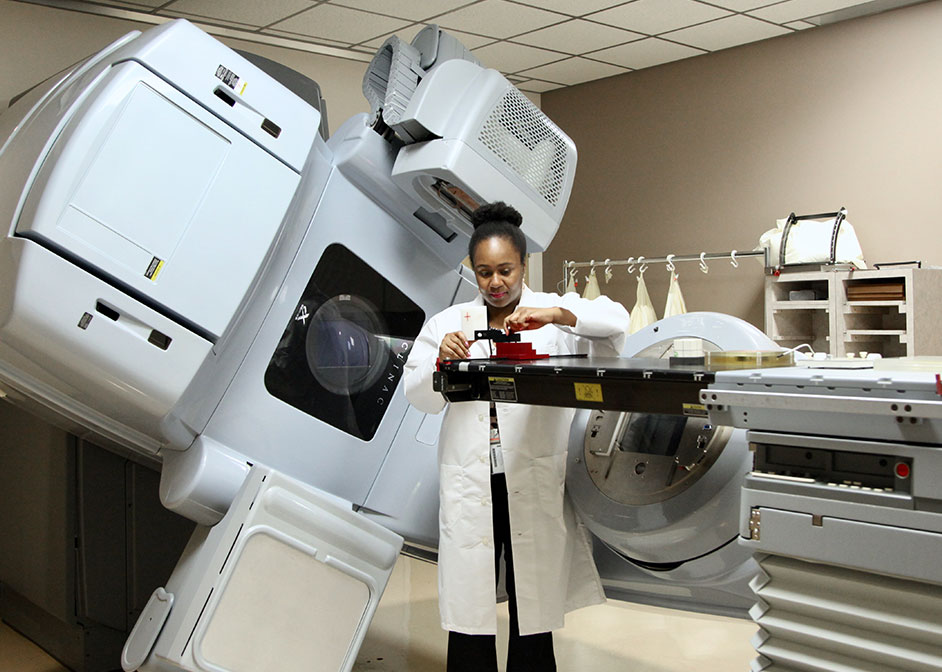 She also was involved in a UH undergraduate research team as the astrobiology coordinator for the High Altitude Student Platform program – a partnership between NASA and Louisiana State University. Through this program, she developed the collection apparatus that the team used to gather materials from the atmosphere to find out how they are resistant to increased levels of radiation.
Gaining Work Experience
After graduation, Brooks applied for the Medical Physics Ph.D. Program at the University of Texas M.D. Anderson Cancer Center UTHealth Graduate School of Biomedical Sciences.
The competitive program accepts only about 6 to 8 students from a pool of worldwide applicants each year. And only a handful of those accepted are students without master's degrees.
Before being accepted into the program, she spent some time broadening her work experience as a medical physics assistant.
"I was rarely home," Brooks said. "Being out of school, I just focused full time on my career path.
Brooks was determined.
She added, "I love this work. I love this field. I love all the opportunities that I've been exposed to so far. I just kept thinking – if I want to make an impact – if I want to accomplish the goals that I have for myself around quality of patient care, I need to do everything I can to be taught by the best. So, I just worked harder. I took on more responsibilities."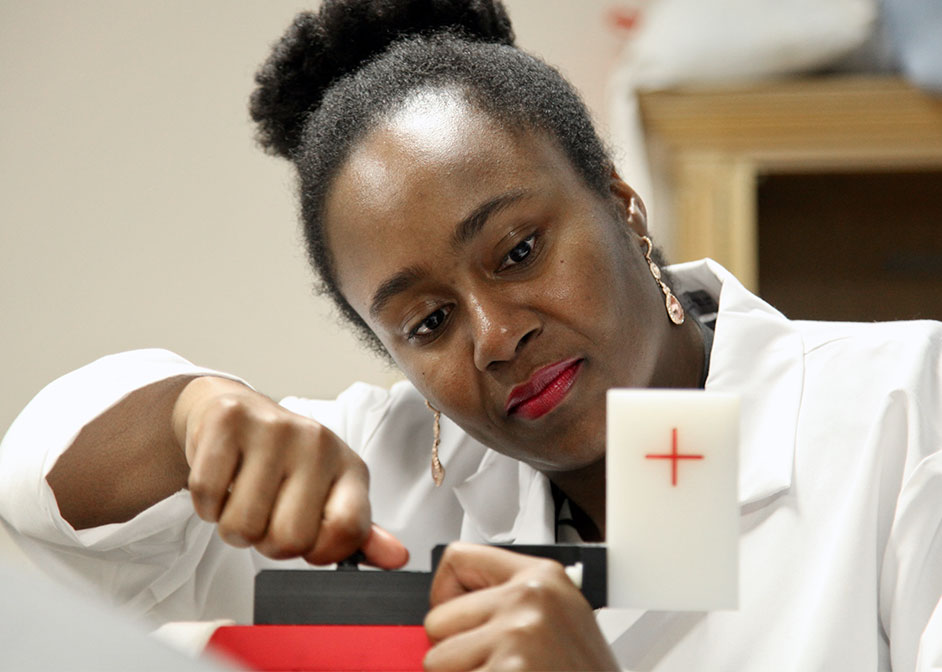 That hard work and determination paid off – Brooks is now in her second semester at M.D. Anderson. She is the only African American woman in the medical physics Ph.D. program.
Advice to Women of Color in STEM Careers
Brooks has encountered gender stereotypes that can take the form of jokes or through people underestimating her. It happens most often when she works with all-male groups.
"You might pitch an idea that is well thought out, but it's ignored by the group," said Brooks. "Then, you have an authority figure come in, and suggest the same idea. But the group doesn't bring up the fact that you pitched that idea earlier."
For Brooks, these instances are frustrating in the moment.
"Women before me have dealt with this," she said. "Even though it happens, there are enough times where the situation gets resolved and my voice ends up being heard. That helps. Perseverance helps."
Mentors can be helpful, too. Brooks advises women in STEM to seek out information from advisors and to look for people affiliated with the career you are most interested in.
"I was very fortunate. The UH physics department is small, and we have professors that are invested in students, in our success," Brooks said. "There are people who will advocate for you, keep an eye out for opportunities, like Dr. Cheung did."
The medical physics student advises women of color in STEM to keep an open mind as well. Sometimes it seems difficult to take on more when your mentors make recommendations. But, "they're really trying to help you and taking on that task might make you eligible for a great opportunity."
The Road to Graduation
This semester of the medical physics program is one of the busiest semesters. She has regular classes and labs several times a week, including weekends. Her workload is made even more intense because she wants to graduate sooner.
Her plans past graduation are still to be determined. She is headed to London later in the year to meet with an international branch of her research group to collaborate on research projects directly related to her Ph.D. work.
Although her academic journey has had its setbacks, Brooks said her family has been the greatest support system that has helped her through it all.
"When it's difficult," she said, "their support helps me to stay focused on my goals and that has meant everything to me."
- Rebeca Trejo, College of Natural Sciences and Mathematics