PARENT Academy Offers Additional Support
A four-year, $999K grant from the National Science Foundation will fund scholarships for students pursuing degrees within the College of Natural Sciences and Mathematics, as well as the creation of a PARENT Academy to foster family support. This grant is part of NSM's ongoing commitment to improving retention and graduation rates for students.
Scholarships to Support Academically Talented Students
"These scholarships are for academically talented students who demonstrate high financial need," said Donna Stokes, associate professor of physics and principal investigator (PI) of this grant. "The goal of this grant is to provide students with an academic and family network of support."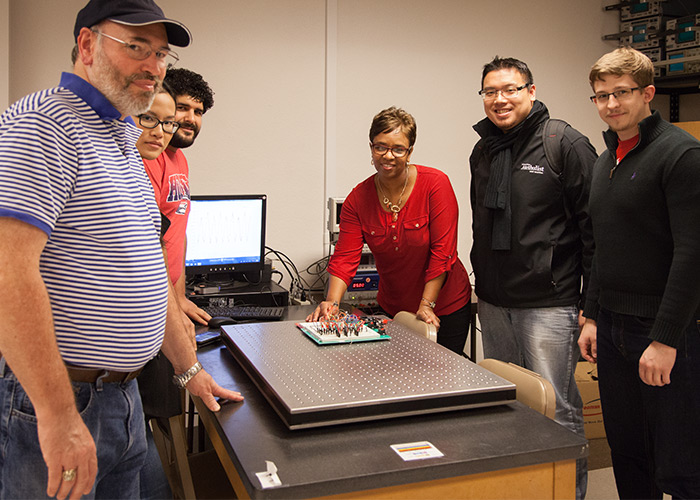 This NSF grant will fund scholarships as well as the creation of a PARENT Academy to support student success."If academically talented students are struggling in other areas of their life, their talent can suffer," Stokes said. "We want to help students build a support network, so that they can balance academics with their outside life."
Also included as co-PI's on this grant are instructional associate professor of biology Monique Ogletree, clinical associate professor of mathematics Paige Evans and associate professor of curriculum and instruction Laveria Hutchison. Cheryl Craig, professor of teaching, learning and culture at Texas A&M University, will serve as an external evaluator to the program.
25 Scholarships Will Be Awarded Per Year
This grant will support 25 scholarships, in amounts of up to $2,500 per semester, or up to $5,000 per year. Eligible students include those majoring in biology, biochemistry, chemistry, computer science, earth science, environmental science, geology, geophysics, mathematical biology, mathematics and physics, as well as students participating in the teachHOUSTON program.
Students will be eligible for these scholarships starting in their sophomore year, and can receive up to three years of support. Scholarship recipients will also participate in a monthly cohort STEM Student Interest Group (S-SIG) meeting.
"During the S-SIG meetings, students will be able to engage in professional development activities and best-practice methods for success," Stokes said. Students will also receive mentoring and learn about research and teaching opportunities.
PARENT Academy to Encourage Support System
This grant will also fund the development of a PARENT Academy, which will take advantage of UH's unique population of students by engaging family and community members.
"We'll have a kickoff meeting every semester, where students can bring in parents, family, spouses, community members, whoever they feel will be their support system," Stokes said. "We hope this exposure will help them understand how their support can help students be successful. During these meetings, we will host lab demonstrations and workshops as a way of exposing family members to science in an academic setting.
Long-term, this grant will test the most effective way for increasing graduation rates by providing financial support and examining the role family influence plays in student success.
"The research component of this grant will ask if this type of support instituted at the higher education level helps promote student success," Stokes said. "Our overarching goal is to improve the retention and graduation rates. This program will help us to determine the most effective way to achieve this goal."
- Rachel Fairbank, College of Natural Sciences and Mathematics