Two-Week Program Involved Many Physics Faculty Members
Instead of taking the summer off, 15 Houston-area high school physics teachers devoted part of their summer to enhancing their teaching skills.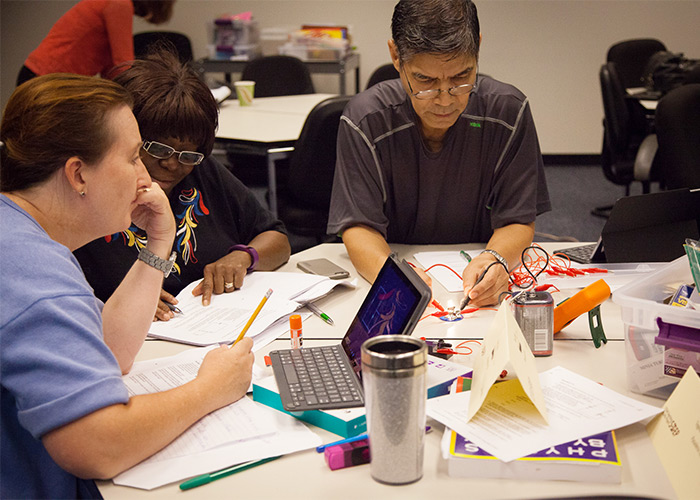 STEP program participants investigate electrical circuits, using both a traditional multimeter and an iPad simulation app.These dedicated teachers were at the University of Houston learning methods to engage students in activities that reinforce physics concepts. The two-week program, called the STEM Teaching Equity Project – Physics Summer Institute or STEP, is a UH faculty-led professional development program that supports active learning in physics classrooms.
Each day, teachers worked through various hands-on activities to replicate in their classrooms. The lessons ranged from demonstrating magnetic fields, electric current and basic principles of a motor to exploring Newton's 2nd Law through an activity that shows how forces applied to an object relate to its acceleration and velocity.
In addition to working on classroom activities, the teachers learned about current research projects through tours of UH physics laboratories. In September, the teachers started attending three-hour, follow-up sessions every two weeks. These will continue through the school year.
Districts/Schools Represented:
Alvin ISD
Brazosport ISD
Cypress-Fairbanks ISD
Harmony Public Schools
Houston ISD
Katy ISD
Pasadena ISD
Spring Branch ISD
Principal Investigators of STEP are Drs. Margaret Cheung and Rebecca Forrest of the Department of Physics in the College of Natural Sciences and Mathematics and Dr. Wallace Dominey of the College of Education.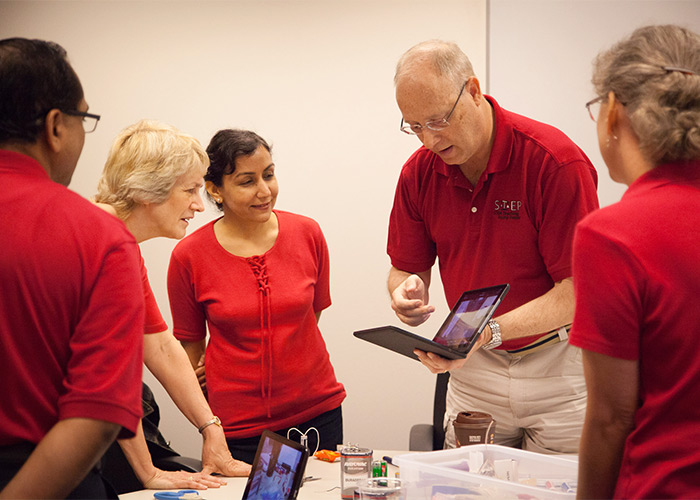 STEP participants discuss innovative physics iPad apps with Nancy Kralik (left), whose family provided funds for two high school teachers to attend the program. iPad applications are one of many activities participants learned about to reach students in new ways."These teachers have so much dedication for what they do, and a great desire to deepen their understanding of physics and teaching with inquiry-based methods. I really enjoy working with the teachers. The UH faculty also get a lot out of the program, getting to know more about what students learn in high school, and getting experience with inquiry-based methods themselves," said Forrest, UH instructional and research associate professor of physics.
The program is funded by the Teacher Quality Grants program of the Texas Higher Education Coordinating Board and the Texas Regional Collaboratives for Excellence in Science Teaching. This year, additional funding came through a generous donation from Nancy Kralik (M.S. '82) and her sons, Logan and Galen Kralik, which supported the costs for two teachers to attend the program.
"The teachers who attend the STEP program spend their 'off time' learning how to better motivate school children, and my family is proud to be able to help those teachers reach their full potential and therefore assist children and teenagers to reach their full potential in science-based thinking," Kralik said.
Session facilitators for the Summer Institute included Forrest and Cheung, physics faculty member Dr. Donna Stokes, teachHOUSTON faculty member Dr. Paige Evans, and College of Education faculty member Dr. Milijana Suskavcevic.
Nine additional physics faculty members, Drs. Kevin Bassler, Shuo Chen, Mini Das, Liming Li, James Meen, Andrew Renshaw, Anthony Timmons, Oomman Varghese, Lisa Whitehead, and Lowell Wood, participated in the program by working with the teachers on activities or providing access to their labs.
- Kathy Major, College of Natural Sciences and Mathematics