Students Monitor the Aurora Borealis

Research Funded by NASA's Science Mission Directorate
A student team from the University of Houston recently traveled to Fairbanks, Alaska, to participate in a NASA-funded research project studying the aurora borealis.
The Undergraduate Student Instrument Project: UltraLight Mission, a team of 11 College of Natural Sciences and Mathematics (NSM) and Cullen College of Engineering undergraduates, flew student-designed-and-built instrumentation on weather balloons to monitor the aurora borealis (or Northern Lights). Measurements were taken March 15-27.
The activity was part of an undergraduate technology development project, funded through NASA's Science Mission Directorate, where student teams designed ultra-lightweight (less than 6 lbs.) and ultra-low-cost (less than $3,000 on average) devices to gather scientific data in Alaska.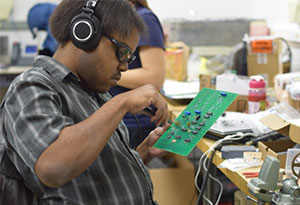 The team, organized by NSM's Departments of Physics and Earth and Atmospheric Sciences, designed, managed and developed several different devices which were packaged into six different balloon payloads. Each payload carried one or two experiments. Out of 15 launch attempts, the team had 12 actual payload flights. An attempt was made to fly each payload three times.
The students also worked on all the power/payload integration aspects of balloon science. The instrumentation and devices gathered electrical and gaseous data during the aurora borealis events.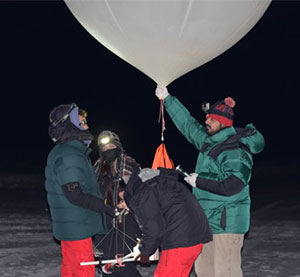 Faculty advisors participating in the experiments included Edgar Bering, professor of physics; Barry Lefer, associate professor of atmospheric science; and Bonnie Dunbar, director of the UH STEM Center and M.D. Anderson Professor of Mechanical Engineering.
- Kathy Major, College of Natural Sciences and Mathematics