Both Students Involved in Undergraduate Research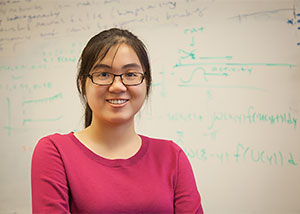 Khanh NguyenKhanh Nguyen, a University of Houston physics and mathematics double major, is one of 283 students nationwide chosen for a 2014 Barry Goldwater Scholarship. She is the only UH student selected for the honor.
The Goldwater Scholarship Program fosters and encourages outstanding students to pursue careers in the fields of mathematics, the natural sciences, and engineering.
The 2014 Scholars were selected from a field of 1,166 students nominated by their colleges and universities across the nation. Goldwater Scholars receive up to $7,500 to support their undergraduate education.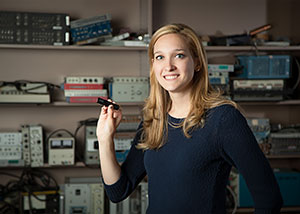 Christina StegemollerNguyen, a junior, conducts research in the field of mathematical neuroscience applications. Her mentor is Dr. Zachary Kilpatrick in the UH Department of Mathematics. She plans to pursue a Ph.D. in applied mathematics and to conduct research in neuron mathematics and teach at the university level.
Christina Stegemoller, also a physics major, received a Goldwater Honorable Mention. Stegemoller is doing undergraduate work with Dr. Lawrence Pinsky in the UH Department of Physics. She is part of his Medipix research group, which studies pixel detector technology. She will pursue a Ph.D. in physics and plans to conduct research in elementary particle or astroparticle physics.
- Kathy Major, College of Natural Sciences and Mathematics