CS in The Daily Cougar: Club Hub: Computer Science Girls

Organization Encourages Female Computer Science Undergrads
Article originally in The Daily Cougar.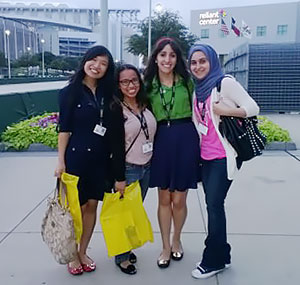 Computer Science Girls hopes to encourage female students to graduate with a Bachelors of Science by inspiring and motivating them about the industry and its opportunities. | Courtesy of Computer Science GirlsOf the 500 computer science undergraduates, 12 percent are female, and of those, about 4 percent will graduate, according to the Computer Science Department. To combat these startling statistics, computer science students have formed an organization.
Computer Science Girls, the brainchild of senior Estefannie Gutierrez de la Garza, aims to encourage girls to stay in the field by inviting successful women for inspirational talks and offering workshops to help them hone their skills.
"It's a very male-dominated field, and I wanted to create something that was for girls as well, to create a platform for them to become successful and continue in computer science," Gutierrez de la Garza said. "I noticed that, two years in, a lot of girls switch majors to (management information systems) or even biology, so our main purpose is to keep them in this field and become successful by inspiring them."
Gutierrez de la Garza said even she has faced hardships.
"Guys are naturally competitive, so it becomes really competitive. Guys are like, 'I already know this,' and you're like, 'Maybe they do, maybe they don't,' but you feel like you're already behind," Guitierrez de la Garza said.
She was inspired to start CSGirls after reading about Anita Borg, the founder of The Anita Borg Institute for Women and Technology, an organization that aims to increase the presence of women in technology. Gutierrez de la Garza felt something similar was needed at UH, and she was not alone.
"I was really looking for a place like this to join, because there's no support for the girls," said junior club member Rachel Madrigal. "It's really hard to find somebody to relate to, and I think that's why people would want this workshop."
Madrigal started college in the Philippines, where she says a science-based course would have an equal number of men and women enrolled. She was shocked when she went to HCC and now UH to find otherwise. She said in a class of nearly 100, only four are women, including her.
CSGirls is the first UH computer science organization designed for women. It has grown to nearly 50 members and has gotten praise from UH professors and alumni.
The organization isn't exclusive. They welcome all — undergraduates, graduates, non-computer science majors — interested in computer science. For example, Alex Jimenez, head of CSGirls public relations, is a male computer science senior who recognized the need for the organization. He went to Gutierrez de la Garza offering to help in any way.
"I believe in the fact that when there is more diversity in the field, you get to accomplish more," Jimenez said. "Whenever you have female roles in a group, it just becomes a little bit more focused. Everyone becomes able to accomplish things easier, and it just becomes a better, friendly environment."
Currently, CSGirls is preparing for Robotics with Python, a workshop at 4:30 p.m. on Dec. 5 in Philip Guthrie Hoffman Hall, Room 550, where Jimenez will teach club members how to program Nao robots. Some other upcoming events will be another workshop with UH alumni Paul Decarlo from Microsoft, who on his last visit showed CSGirls how to make Window 8 apps, and an inspirational talk from Uma Ramamurthy, assistant professor and director of research informatics at Baylor College of Medicine.
- Article appeared in The Daily Cougar and was written by BoJanay Posey