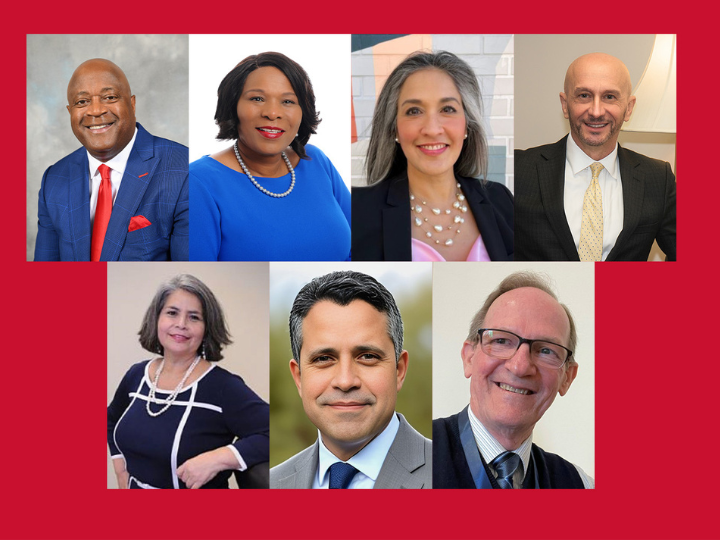 The UH Health Family Care Center, an on-campus health clinic that provides affordable, comprehensive and integrated primary care and mental health services to the University of Houston community and surrounding neighborhood, has appointed seven members to its new board of directors. 
"We are excited to bring together these accomplished, dedicated professionals to lead the UH Health Family Care Center," said Dr. Stephen Spann, UH vice president for medical affairs and founding dean of the Tilman J. Fertitta College of Medicine. "Their combined experience across the health care spectrum will ensure the Family Care Center succeeds on its mission to provide coordinated, patient-centered care to UH and Houston's underserved communities."
The new board members, many of whom have experience serving on non-profit boards and leading community organizations, are: 
Gloria Moreno (President) is a native Houstonian and currently works as the assistant chief policy officer for the city of Houston. Her office oversees all city efforts to improve drainage, reduce flooding and coordinate with other agencies, departments, business and community leaders, nonprofits and residents for infrastructure improvements. A lifelong public servant, Moreno serves on various boards with special interests in community engagement and health policy. 
Lharissa Jacobs (Secretary) is the founder and executive director of Fit Houston, a nonprofit that promotes free physical activity in local communities. As the former vice president of health strategies for the American Heart Association in Houston, Jacobs worked with clinics and community partners to maximize equitable health and well-being. Jacobs has a master's degree in education and an M.B.A. from the University of Houston.
Santiago Caraballo (Treasurer) is the managing director and senior relationship manager for PNC Healthcare and was instrumental in the growth and development of the bank's large corporate health care practice. Caraballo, who has 20 years of financial experience, focuses on delivering capital and banking solutions to leading health care providers and insurers across Texas and the U.S. 
Rev. Linda Davis is an experienced assistant legal administrator in labor and employment law. But after 25 years in the corporate world, she answered a new calling and currently serves as pastor of Boynton Chapel Methodist Church in Houston. Davis has great passion for community engagement and social justice issues and is committed to leveraging the strengths of research and faith towards improving the social determinants of health in underserved communities. 
Michael Klepin is the president and CEO of St. Joseph Medical Center in Houston, and among his many goals is building alliances with other services in the community to take care of some of the most vulnerable populations St. Joseph serves. Klepin brings decades of leadership experience in hospital systems around the country, including Cigna Healthcare, Continental Medical Systems and Alta Hospital System in southern California. 
Sidney Lacey is a native Houstonian and a proud alumnus of the University of Houston C. T. Bauer College of Business where he graduated cum laude in the inaugural Honors Program class and served on the alumni association board. Lacey is the managing director of Lacey Newday Consulting LLC, a management consulting firm which he founded in 2006. He is passionate about providing high-quality education to students from underserved communities. 
Dr. Steve Watts earned his bachelor's degree in biology and chemistry from the University of Houston. After completing medical school at UTHealth's McGovern Medical School in Houston, Watts practiced family and sports medicine in clinics and urgent care facilities across the southern U.S. Watts, who has authored many medical publications and delivered lectures around the world, also served as an associate professor and director of the Primary Care Sports Medicine Fellowship program at the University of Mississippi. 
The Family Care Center features an innovative, integrated behavioral health model of care that allows for comprehensive primary care without neglecting the mental health needs of patients. The clinic offers pediatric and adult care, women's health care, mental health services as well as outpatient psychological and psychiatric consultation services. 
The clinic also provides UH medical students with real-time training in communities they will potentially serve in the future. The Fertitta Family College of Medicine opened in 2020 on a distinct social mission to improve health and health care in underserved urban and rural communities where poor health outcomes are often more prevalent. Students are trained to provide compassionate, high-value care (high quality at reasonable cost), with a focus on primary care and other needed physician specialties. 
New patients can call 832-UHCARES or use the web form to schedule an appointment. Virtual visits are available for established patients via the patient portal.
---