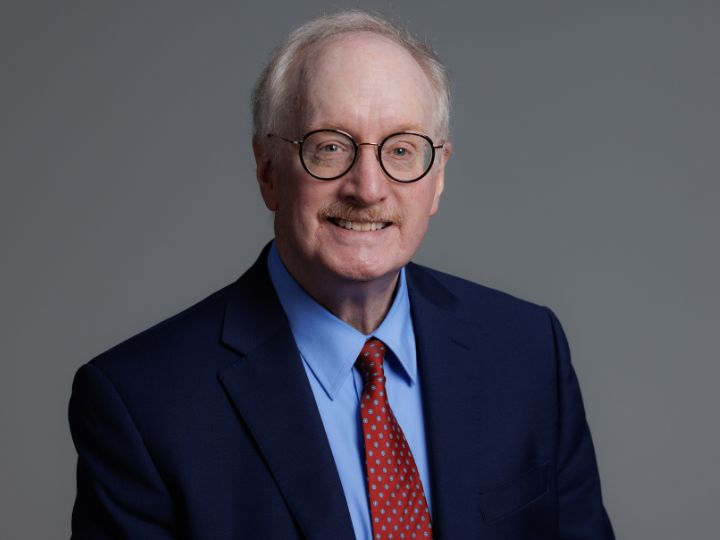 The University of Houston has named Joseph Powell, former chief scientist for Shell and member of the National Academy of Engineering (NAE), as the founding director of the new UH Energy Transition Institute.
Powell's recruitment to the University was funded by a matching grant from the Governor's University Research Initiative (GURI) aimed at helping Texas public institutions of higher education recruit distinguished researchers from around the world to the state. Started in 2015 by Gov. Greg Abbott's Office of Economic Development & Tourism and the state legislature, the program has led to several transformative faculty hires at UH in recent years.
A nationally renowned chemical engineering expert with 36 years of industry experience, Powell has led research and development programs in new chemical processes, biofuels and enhanced oil recovery. Additionally, he chaired the U.S. Department of Energy Hydrogen and Fuel Cell Technical Advisory Committee (HTAC) and was elected to the NAE in 2021 after serving two terms on its board on chemical sciences and technology. He is UH's 18th member of the NAE.
Instead of enjoying a quiet retirement from industry, Powell chose to join UH to make a difference in the global shift to clean energy. In addition to leading the institute, Powell serves as a faculty member in the Department of Chemical & Biomolecular Engineering at the UH Cullen College of Engineering.
"What excites me about my new role is the opportunity to work with students, faculty and industry to make a difference on problems that truly matter. Who could pass that up? Imagine the difficulties that arise when you don't have access to energy," Powell said. "At this point in time, the global transformation to energy abundance is not complete, so we must grow the energy system while reducing its impact on climate and the environment, and also develop circular systems to recycle materials and reduce waste. That's a tall order, but a necessity to bring clean energy and sustainable chemicals into play globally and develop solutions that improve the quality of life for all."
The UH Energy Transition Institute, established in March 2022 with a $10 million commitment from Shell USA Inc. and Shell Global Solutions (US) Inc., is focused on the research and education in the areas of production and use of reliable, affordable and cleaner energy for all in a just and equitable manner while helping society transition to a net-zero future. UH faculty and students will partner with Shell employees and other industry leaders to work in three key areas: hydrogen, carbon management and circular plastics.
Powell said the institute will allow him to leverage strengths across the University and in the energy sector to progress the energy transition and position Houston as a leading global energy transition hub.
He envisions the institute will have several important roles. One is to serve as a bridge between different stakeholders – connecting UH faculty experts and students to industry, connecting established mature players with experience and resources to startups and incubators pushing new ideas and innovation – and bringing them together to work on mutually beneficial solutions toward a net-zero future more efficiently.
"We must be the trusted voice for stakeholders and the community that is objective and knowledgeable, where industry comes to present ideas and challenges, where faculty come with their research interests and expertise to partner and achieve more together, and where students are transformed into the energy workforce and leaders of tomorrow."
Ramanan Krishnamoorti, vice president for energy and innovation at UH, believes Powell will bolster the University's collective efforts to lead the energy transition.
"Dr. Powell brings extensive experience, insight and passion to the position. I anticipate the institute growing under his leadership to further strengthen UH's position as the Energy University. We are grateful Governor Abbott prioritizes funding to bring recognized researchers to Texas through GURI and believe Dr. Powell will play a pivotal role in finding solutions to critical local and global challenges around the energy transition," said Krishnamoorti, who noted that GURI previously enabled the University to recruit world-class researchers and NAE members Ganesh Thakur, Andrea Prosperetti and Birol Dindoruk, and John Suppe, a member of the National Academy of Sciences. 
In addition to conducting innovative research, the Energy Transition Institute will be responsible for driving four important work streams ­­– science, engineering and technology; policy and regulation; equity, diversity and justice; and workforce and talent – through recruitment, public-private partnerships, interdisciplinary research and critical training opportunities for the existing workforce to help them transition into new energy areas.
The Energy Transition Institute is one of four institutes that have been or will be established through the $100 Million Challenge. Funded by an anonymous donor in 2019, the $100 Million Challenge is a transformational matching fund designed to propel UH's academic enterprise to unprecedented levels of distinction through philanthropic investment in UH's research and scholarship. Gifts, combined with a one-to-one match from the anonymous donor and potential matching funds from the state, has enabled UH to increase the number of endowed chairs and professorships.
Powell is co-inventor for over 125 patent applications, with more than 60 granted, and is a Fellow and former director of the American Institute of Chemical Engineers (AIChE). He has received numerous industry awards including the A. D. Little Award for Chemical Engineering Innovation (AIChE 1998), R&D100 Award (R&D Magazine) and American Chemical Society Team Innovation Award (2000). He is co-editor and author of the book "Sustainable Development in the Process Industries: Cases and Impact, John Wiley & Sons, New York (2010)," and serves on the editorial board of Annual Review of Chemical and Biological Engineering, and on a current National Academy study on carbon utilization.  
He earned his doctorate from the University of Wisconsin-Madison and bachelor's degree from the University of Virginia. Both are in chemical engineering.
- By Rashda Khan 
Q & A with Joe Powell:
How did you get into the energy field?
JP: I was a product of the energy crises of the 1970s and '80s. We were afraid we were running out of energy, and my generation thought we were going to be less well off or outright endangered because we would not have access to energy. That really motivated me to go into a career where I could do something about the energy problem. It was a huge issue.
How has the energy situation changed since your high school days?
JP: The problem has shifted. The fear that we were running out of energy spurred research and development that led to discovery of all kinds of new sources, from unexpected fossil resources to affordable renewables like wind and solar. So, we now have energy abundance in the U.S., but the concern has shifted to what are the climate and environmental impacts of the energy and products that we enjoy, and underpin the amazing lifestyle we have all come to expect.  
Many other places in the world still don't have access to adequate energy and material resources, and don't share our amazing lifestyle. It is our obligation to help them gain access, but in a cleaner and more sustainable way. While the reasons and priorities have changed, energy was front page news when I was graduating from high school, it continues to be front page news today, and will continue well into 2100 given all the new and evolving challenges we have to address.      
Why is it important for industry and the University of Houston, a Carnegie-designated Tier One Research Public University, to partner on energy issues?
JP:  Partnerships are needed to understand and balance the needs of all stakeholders, so that the right opportunities and services are developed that make positive impacts on the communities and people they serve. UH faculty and researchers work on cutting-edge problems in energy and creating a circular economy to recycle material and chemical products, while also providing the metrics on how these developments impact society and the environment, where and how the business opportunities arise, and what legal and policy frameworks are needed to achieve sustainable outcomes. Industry has the expertise in scaling up to provide sufficient products and services for all to enjoy, and can mentor startups and incubators who progress the more radical new ideas. Industry needs new ideas from faculty and startups, and especially students, who are the workforce and rising leaders of the future energy industry. We have to bring this entire ecosystem together because that is the only way to make the energy transition happen. Houston should be the recognized leader in this space.
Can you share more about what role UH students will play in this environment?
JP: UH students are the key to the energy future! The institute will work though all the departments and groups in the University to ensure students have the skills to succeed and make a difference, through coursework, internships, opportunities to get directly involved with projects. We would hope that all UH students would have a broad understanding of energy, and those who choose to specialize would have a solid foundation built on fundamental science and engineering that would enable them to pivot and adapt as the needs of industry and society change, as they inevitably will. That's been highly important for my career. It is the UH students that in the end, will make the energy transition happen!
---