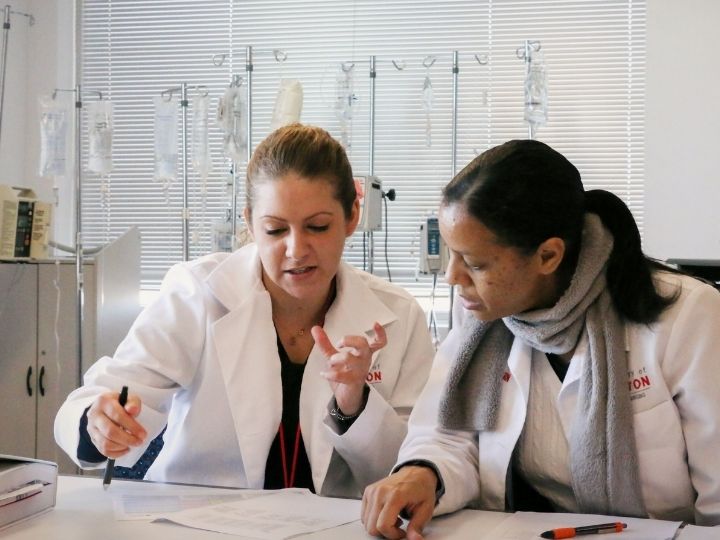 For the sixth time, the University of Houston College of Nursing has been recognized for its outstanding commitment to diversity and inclusion by INSIGHT Into Diversity magazine, the oldest and largest diversity-focused publication in higher education. The college is one of only 16 nursing schools nationwide to be honored with the 2022 Health Professions Higher Education Excellence in Diversity (HEED) Award. All 65 awardees will be featured in the December issue of the magazine.
Kathryn Tart, founding dean of the UH College of Nursing, acknowledges the prestigious award as a mirror of the college's commitment to diversity and inclusion in the education of nurses which she terms an "essential component" to the success and excellence of the nursing profession itself. 
"Diversity is who we are, as a college of nursing and as an institution of higher learning. It is crucial to the accomplishment and excellence of our nursing profession," said Tart, also the Humana Endowed Dean's Chair in Nursing. "We are grateful for this distinction and proud of our dedication." 
All colleges and universities in the U.S. and Canada are eligible for the HEED Award. It measures an institution's level of achievement and intensity of commitment to broadening diversity and inclusion on campus through initiatives, programs and outreach; student recruitment, retention and completion; as well as faculty hiring practices.  
For their efforts in supporting students from all backgrounds, the University of Houston and UH Law Center were honored with HEED awards last month. As one of the nation's most diverse public research universities, located in a city that is consistently ranked among the most diverse in the country, UH has focused on retaining the diversity of its student body while raising academic standards. UH is designated as a Hispanic-Serving Institution and an Asian American Native American Pacific Islander-Serving Institution by the U. S. Department of Education. 
"The Health Professions HEED Award process consists of a comprehensive and rigorous application that includes questions relating to the recruitment and retention of students and employees — and best practices for both — continued leadership support for diversity, and other aspects of campus diversity and inclusion," said Lenore Pearlstein, publisher of INSIGHT Into Diversity magazine. "We take a detailed approach to reviewing each application in deciding who will be named a Health Professions HEED Award recipient. Our standards are high, and we look for schools where diversity and inclusion are woven into the work being done every day across their campus." 
For more information about the 2022 Health Professions HEED Award, visit http://www.insightintodiversity.com/ 
---